MAMEP3.KID
THE AUDIO SECTION
I knew I wanted a better sound system than just the standard cabinet speakers since I would also be using the cabinet as a jukebox. I had purchased a Creative Labs 4+1 surround speaker system from a friend a couple of years before for this specific purpose.
The speaker system came with four small satellite speakers and a subwoofer. The two cabinet speakers mounted just below the marquee actually sounded pretty good so I decided to keep those as the "front" speakers. I used two of the satellite speakers and mounted them on top of the cabinet.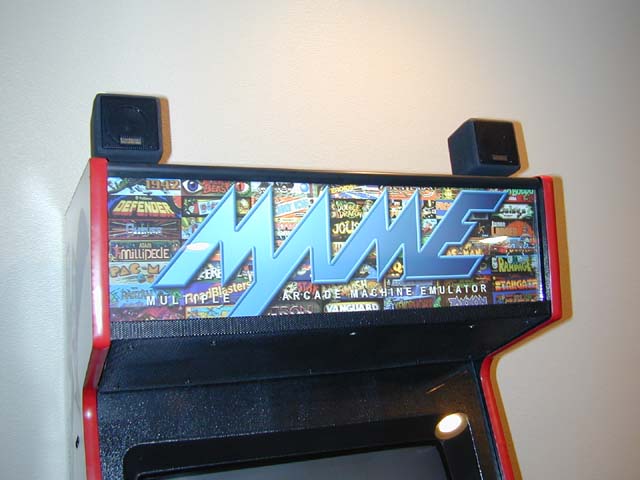 The speaker system came with a remote volume/fader control. I mounted this using Velcro just under the control panel on the left side of the cabinet.
The subwoofer sits neatly at the front edge of the cabinet and provides a perfect place to set a Dreamcast (more on that later). The port on the subwoofer lines up exactly with the hole/speaker grill combination on the front of the cabinet so the bass isn't lost to the inside of the cabinet.
The PC that will be installed in the cabinet has over 100GB of MP3s which includes my entire collection of over 1200 CDs (took me a few months to encode them all)! There's a great new program that's just starting out called MAMEP3 that's an MP3 player that uses the arcade controls for input. I currently use Winamp for MP3 playback as MAMEP3 has a few problems with my configuration that haven't been ironed out just yet.