(this is the page that was created for the sale of the game)
Here is a prime example of an Attack from Mars pinball game. The playfield was stripped completely bare on top and bottom. The playfield was then professionally repaired and clearcoated (using automotive clear, not some cheap Varathane product) by Bill Davis to give you a playfield that is BETTER than brand new! A NOS playfield alone will cost you at LEAST $1000 or more, *if* you can find one! Check out what was done to this machine to bring it to showroom condition -
All plastics and plastic assemblies were replaced with NOS (New Old Stock) plastics.

Pop bumper bodies, skirts and caps are all NOS.

To match the beauty of the perfect Stroke of Luck hole (they are ALWAYS beat up), a NOS scoop assembly was added.

To protect and maintain the beauty of the scoop area, metal protectors were installed around the scoop and behind the drop target.

NOS martians for that minty green freshness!

NOS drop target

NOS saucer area targets

NOS slingshot switches

NOS slingshot arms

Custom backboard graphic

Ramps polished to crystal clarity (ramps have NO cracks)

NOS flipper bats

New red star posts

New rubber rings and sleeves

Lamps replaced

NOS instruction/price card holder (arch)

Custom color-matched instruction and pricing cards
All of this work paid off as the playfield is absolutely breathtaking. Game is 100% working with NO electrical or mechanical issues. Cabinet is extremely nice as well. It has absolutely NO fade whatsoever. It's RARE to find a cabinet in this condition.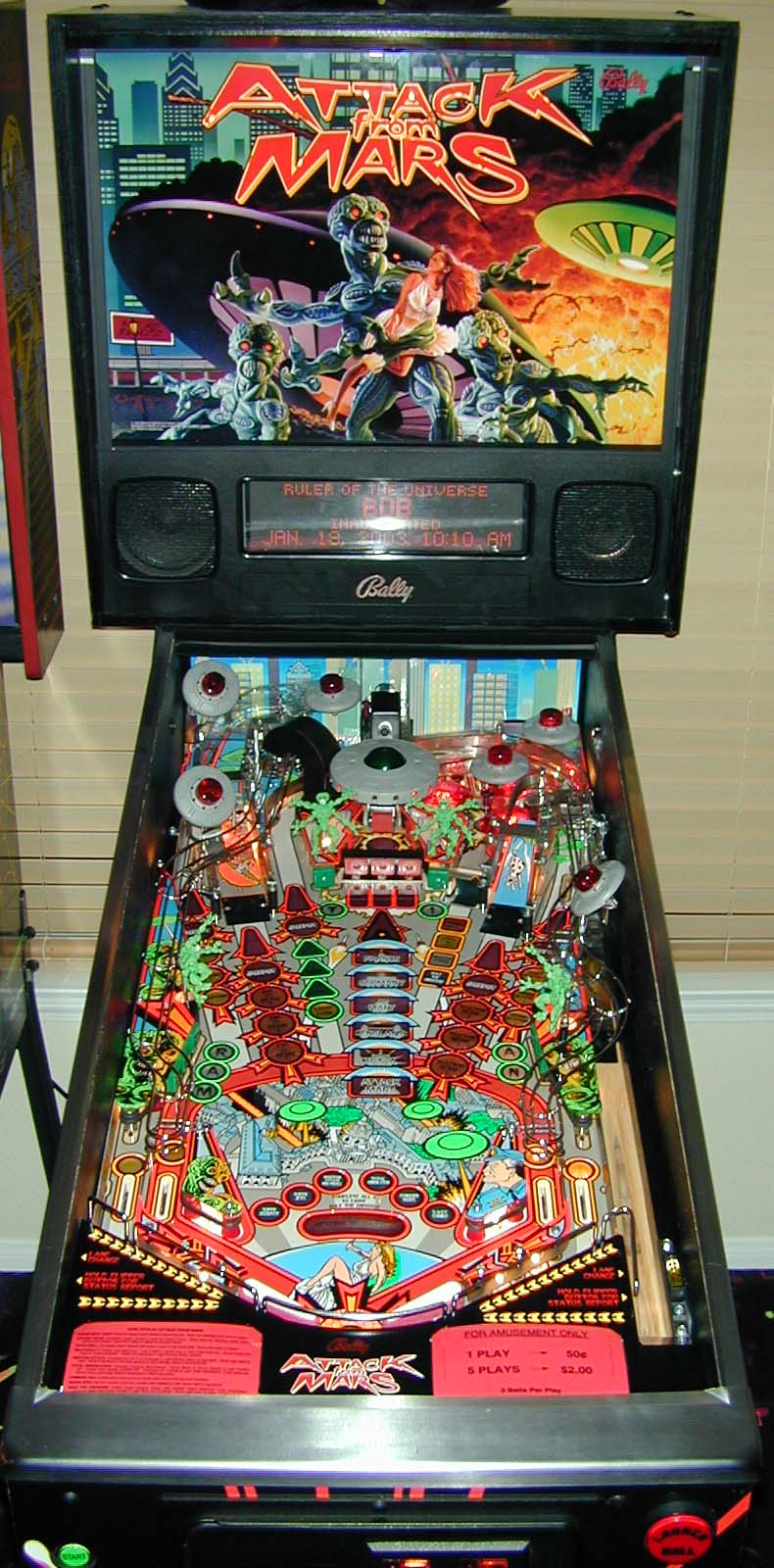 Crystal clear ramps, NOS martians, NOS scoop, new backboard decal.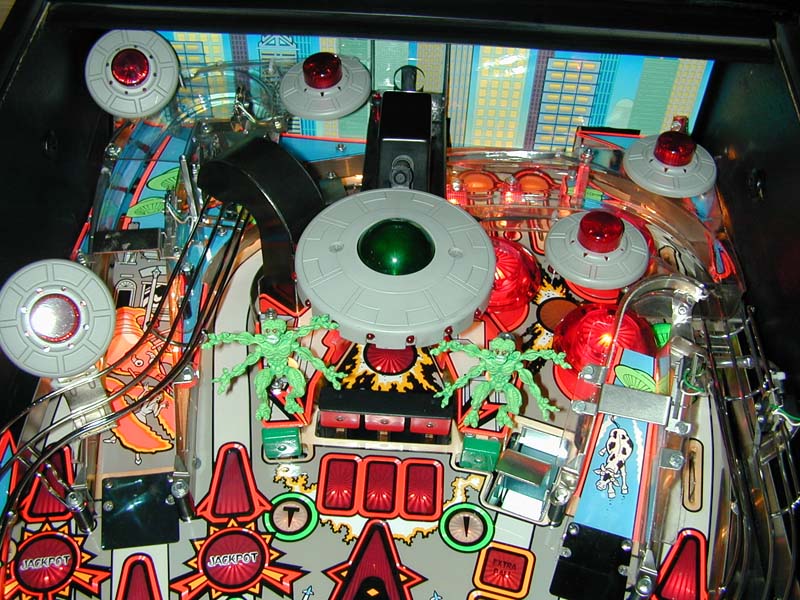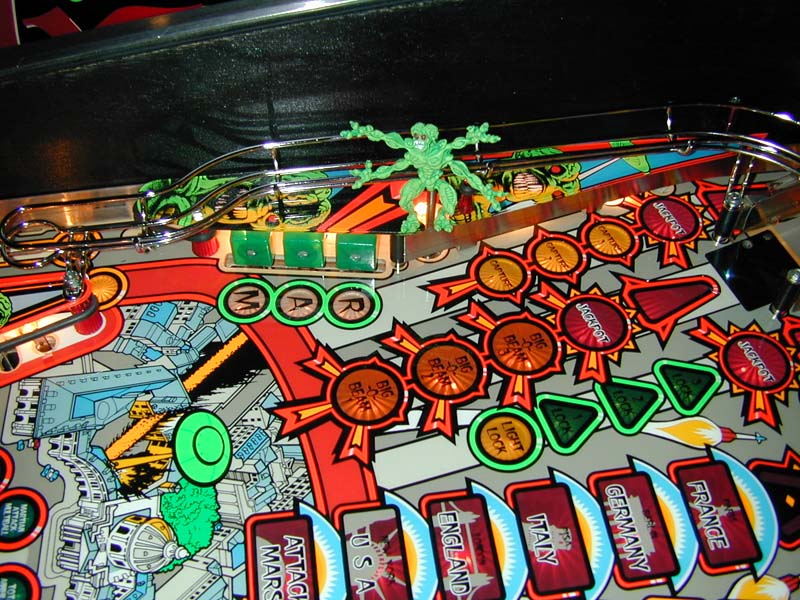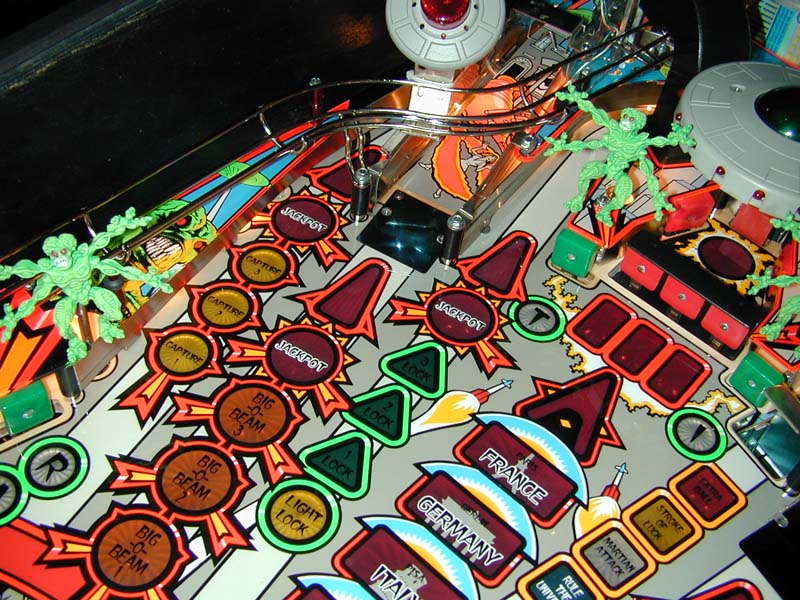 Notice the reflection from the display at the bottom of the picture. This playfield looks like glass!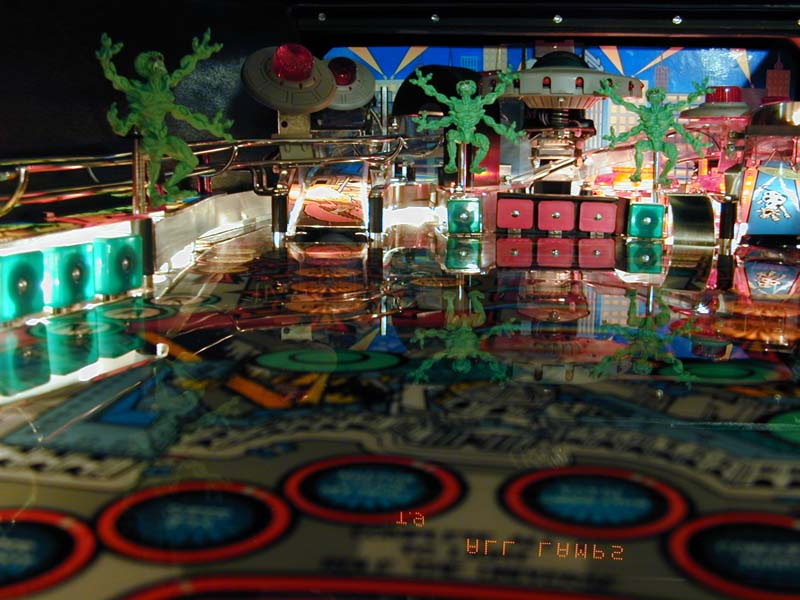 See haze at right edge of Atomic Blaster 1 insert.
Another incredible view of the playfield gloss.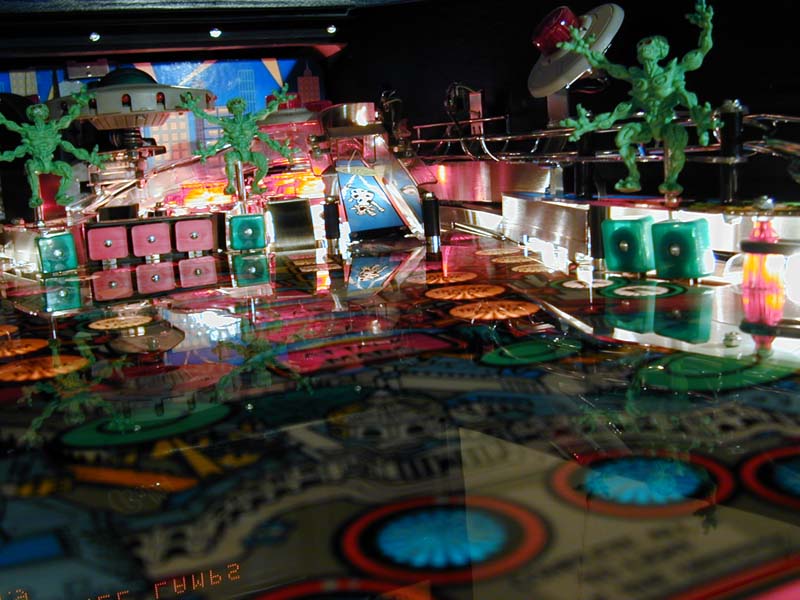 Here's a better shot showing the haze. Only noticeable in a flash picture or with the game off.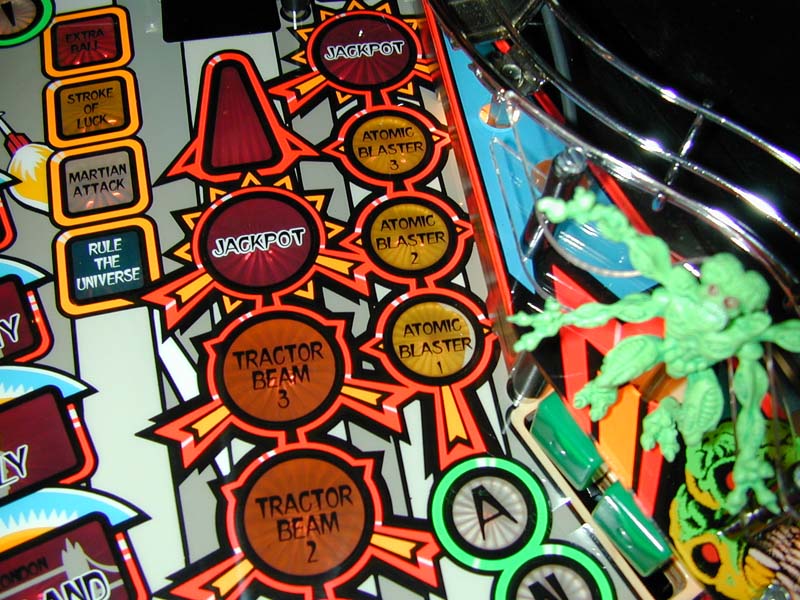 Note - slingshot switches were replaced AFTER this picture was taken. Switches were on order. They are all NOS now!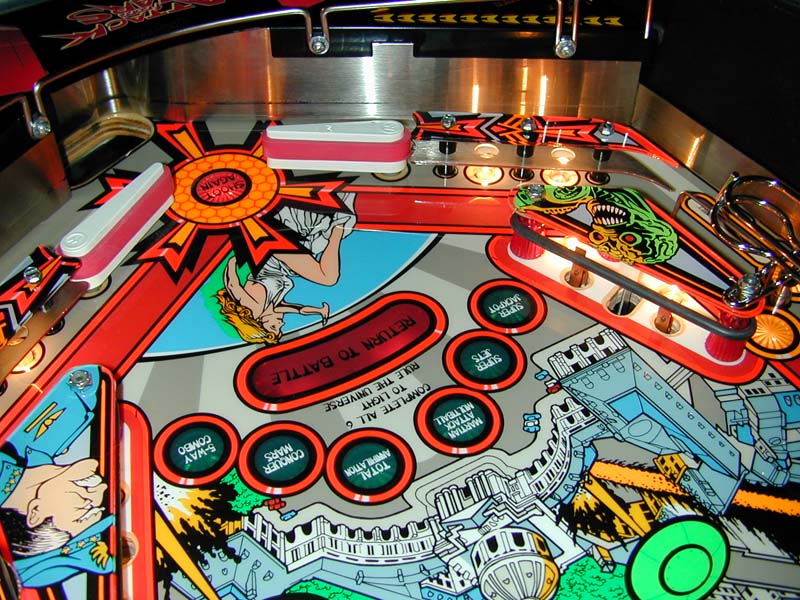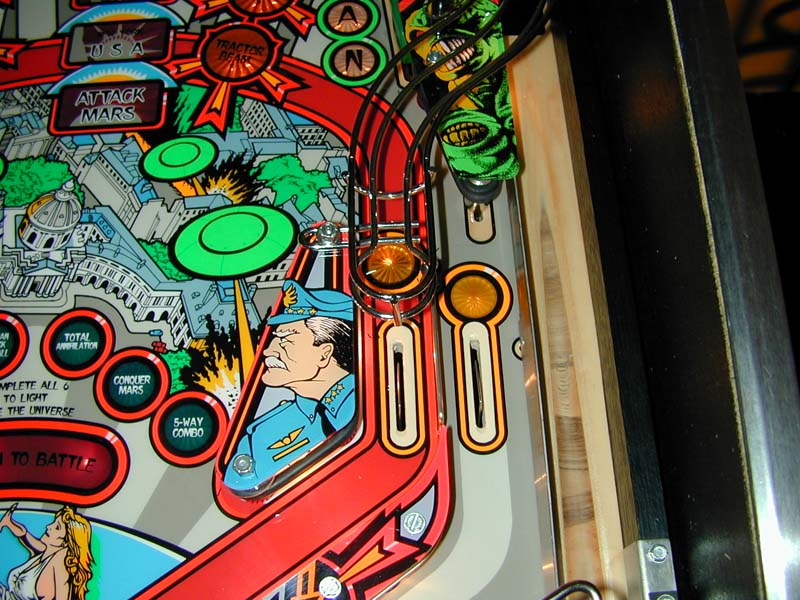 Look at the perfect Stroke of Luck scoop hole and NOS scoop assembly! Protector was installed to eliminate any future wear.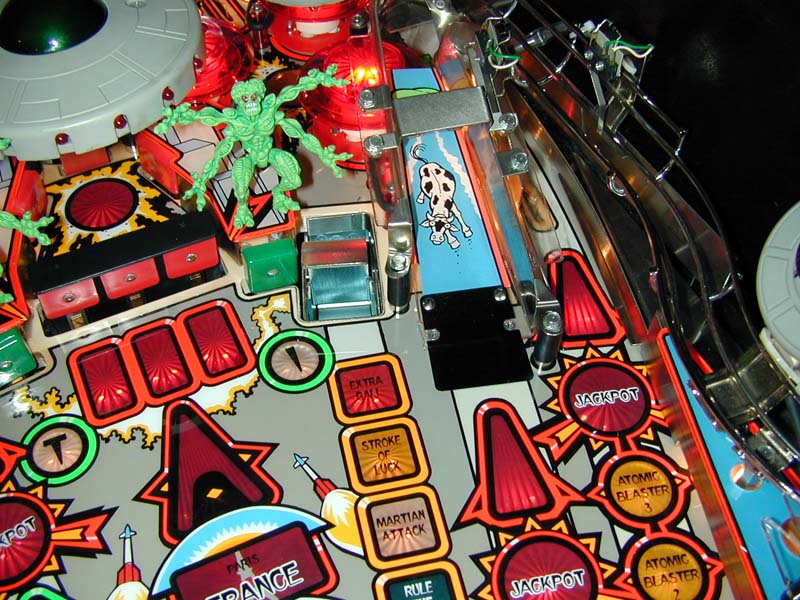 Mars at night!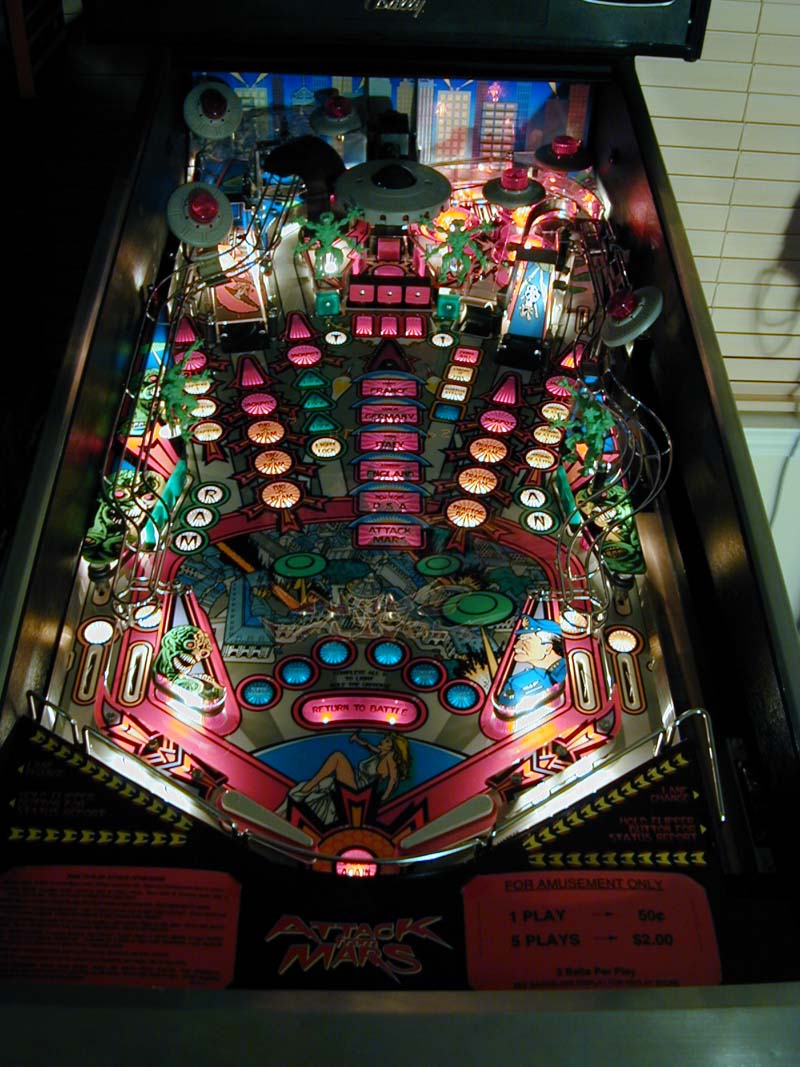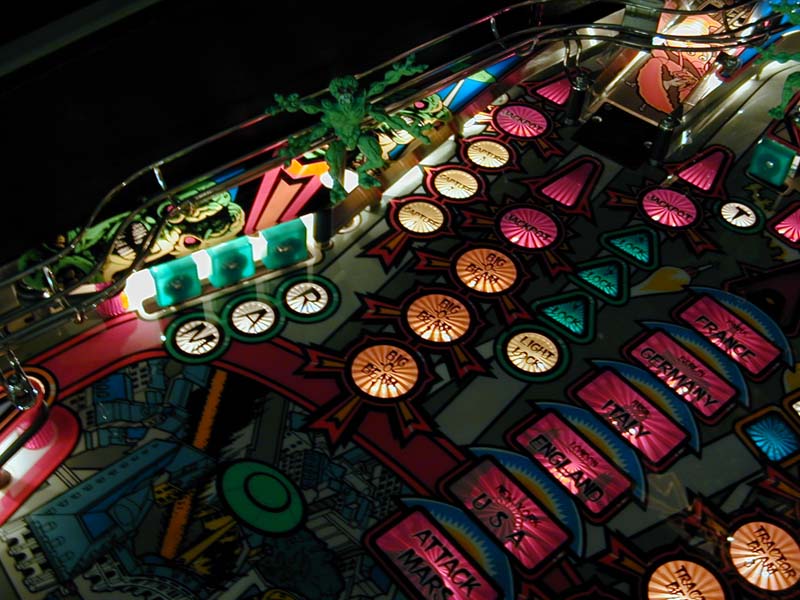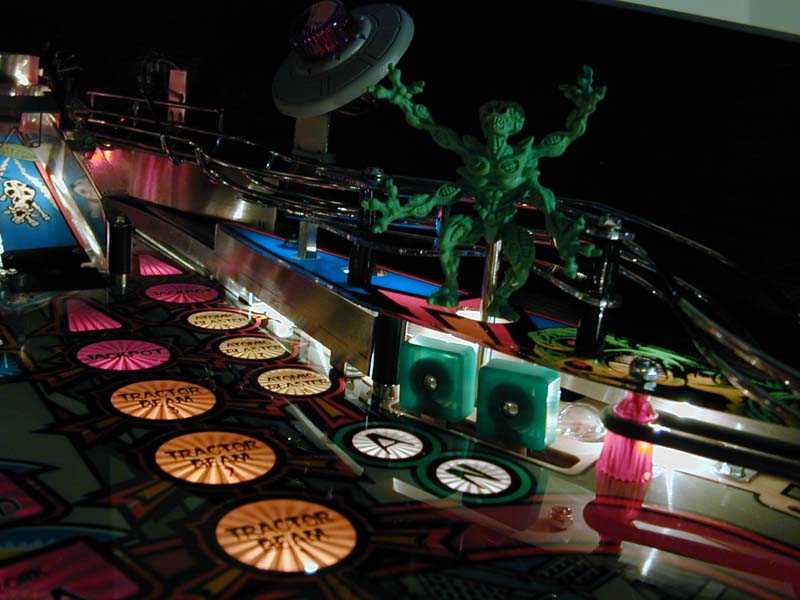 Notice how the insert hazing on Atomic Blaster 1 is not noticeable in this picture.
All new pop bumper assemblies.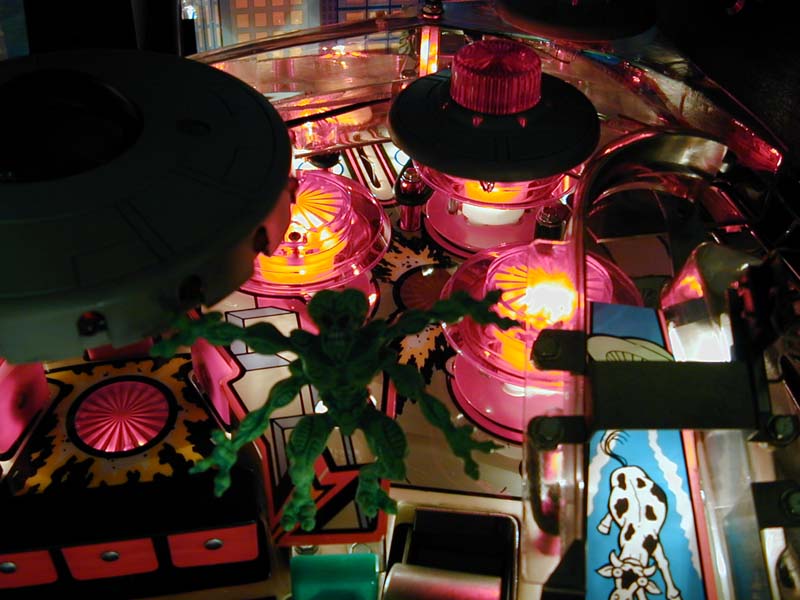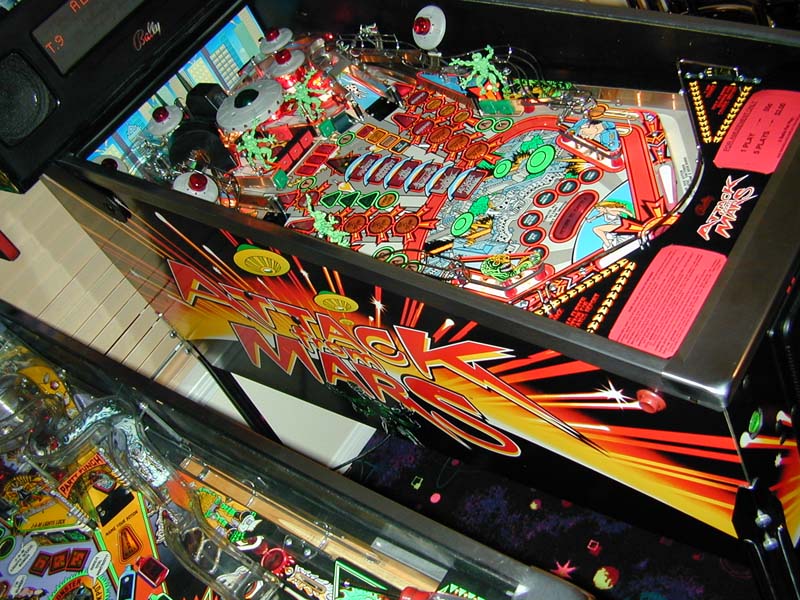 The white blotch to the left of Attack is a reflection.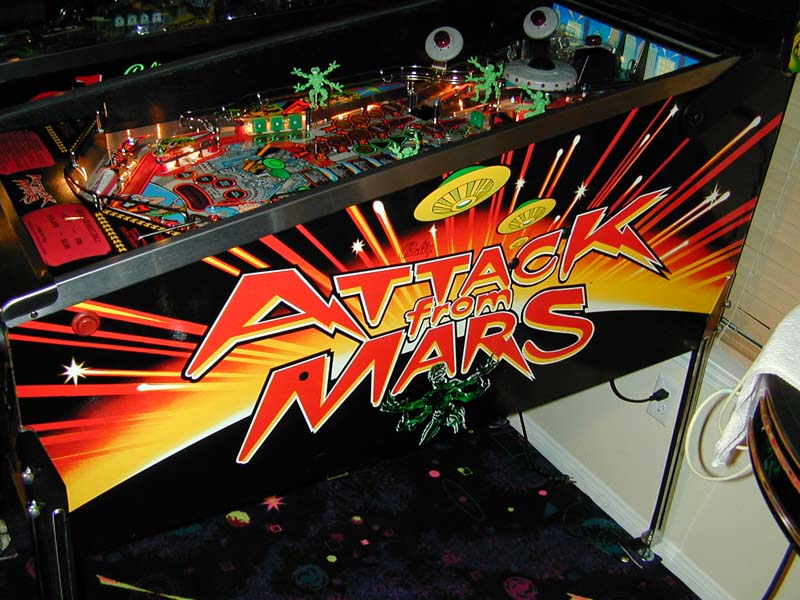 Very minor touchup on left side.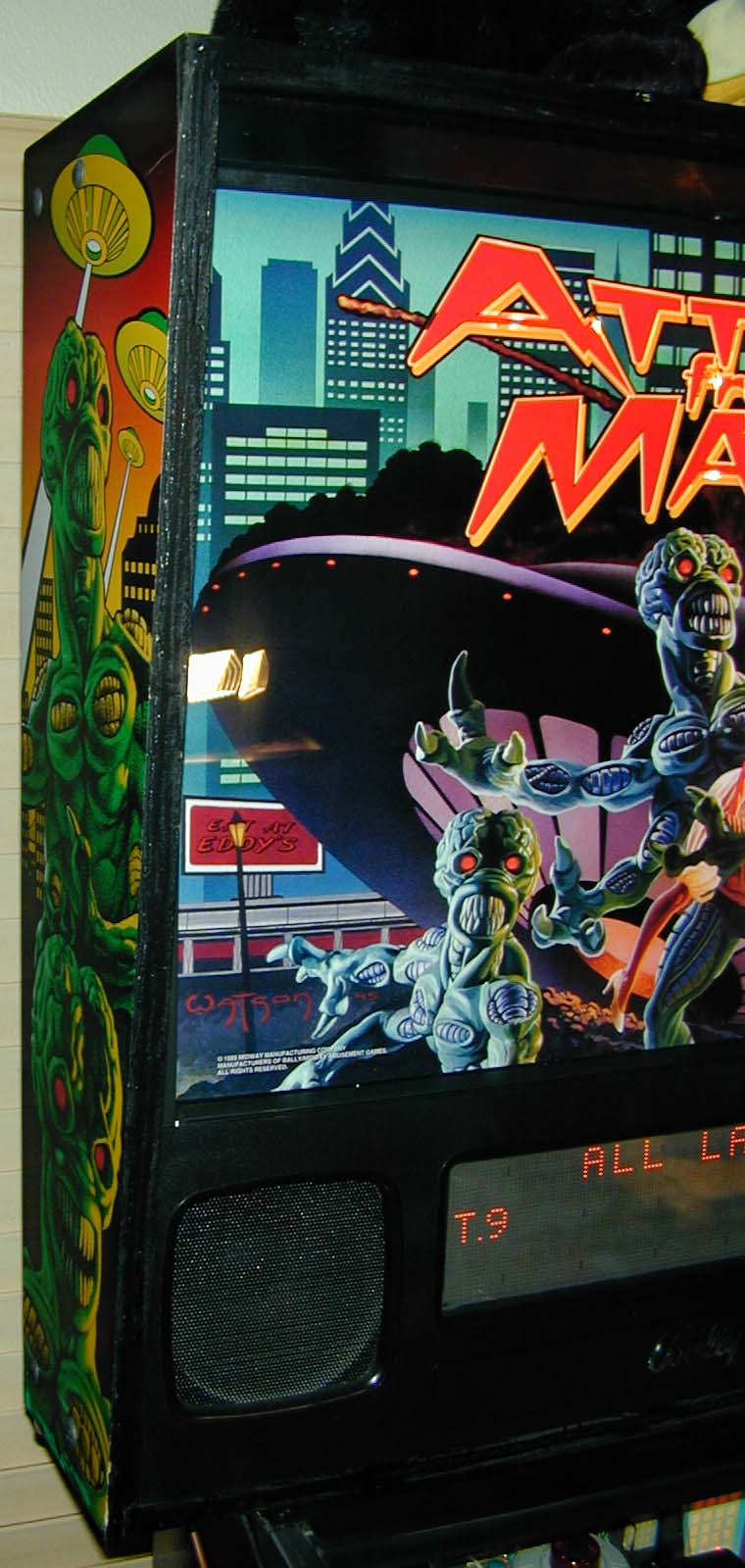 Same on right.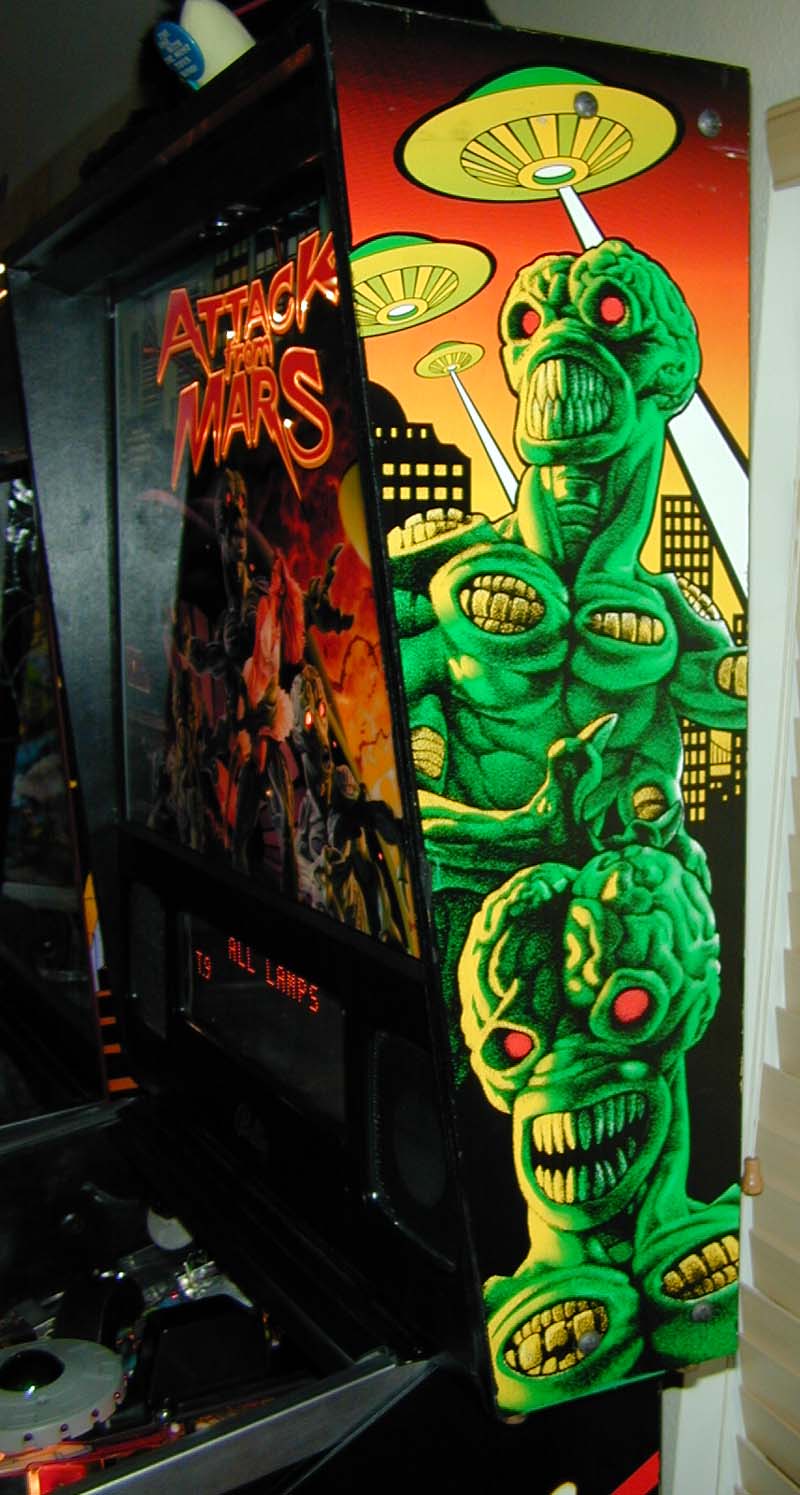 Factory coin door brackets were removed by previous owner. Note that patched holes above Start button are much more noticeable in this picture than in person. My camera shows ANY and ALL flaws!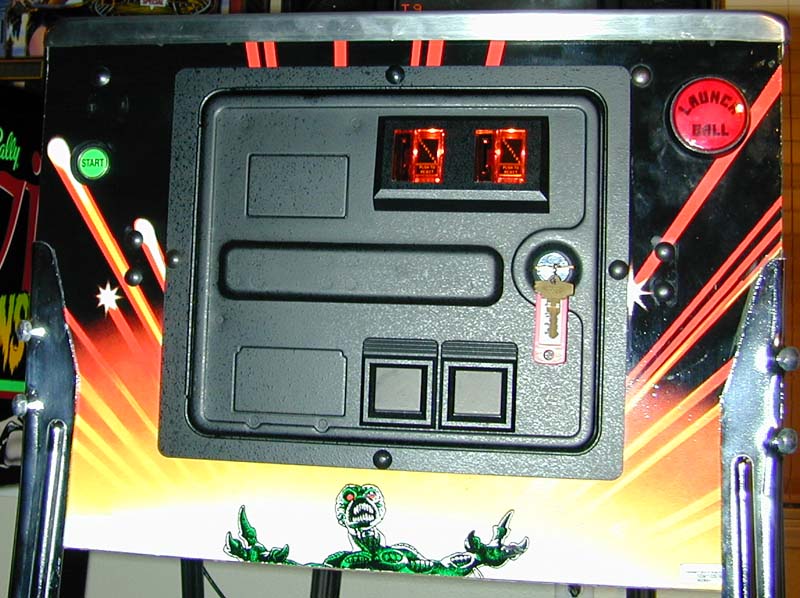 Underside of playfield is spotless!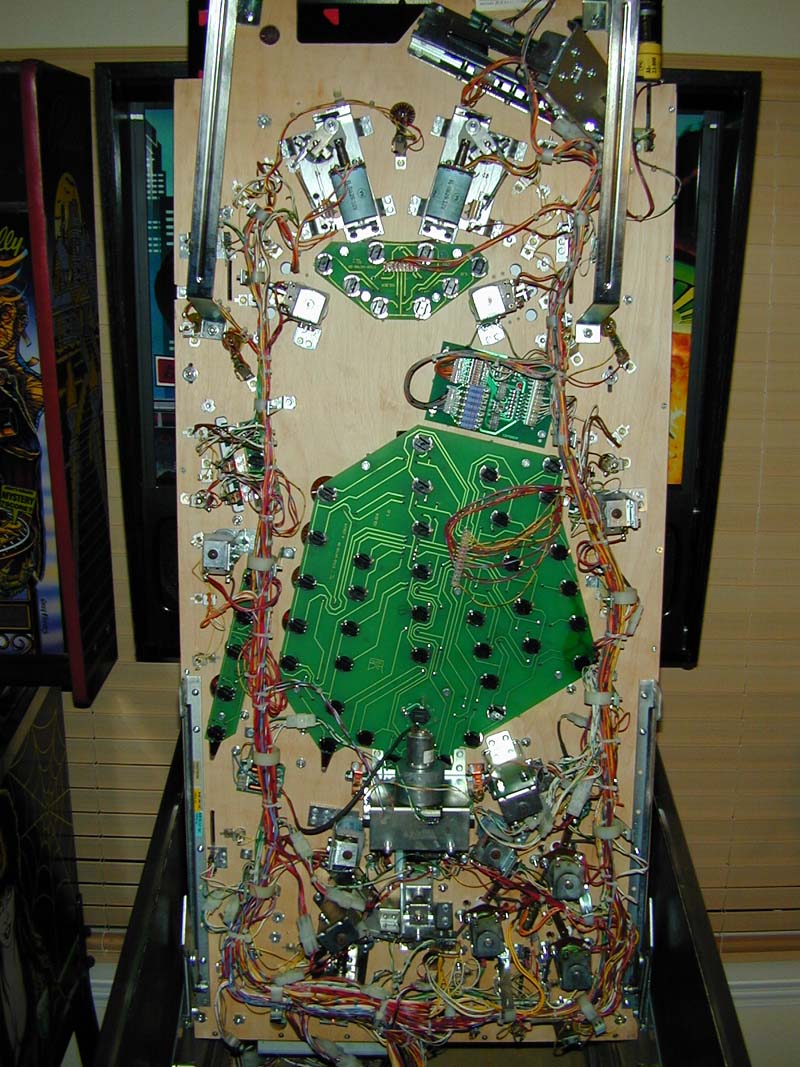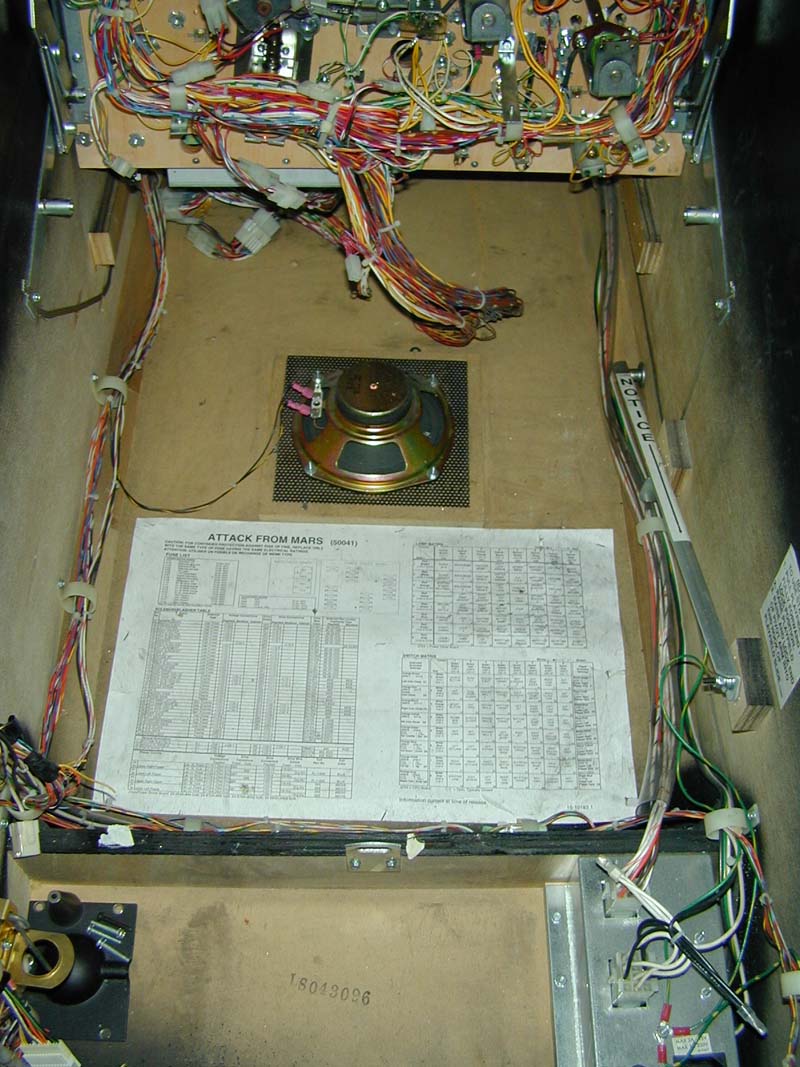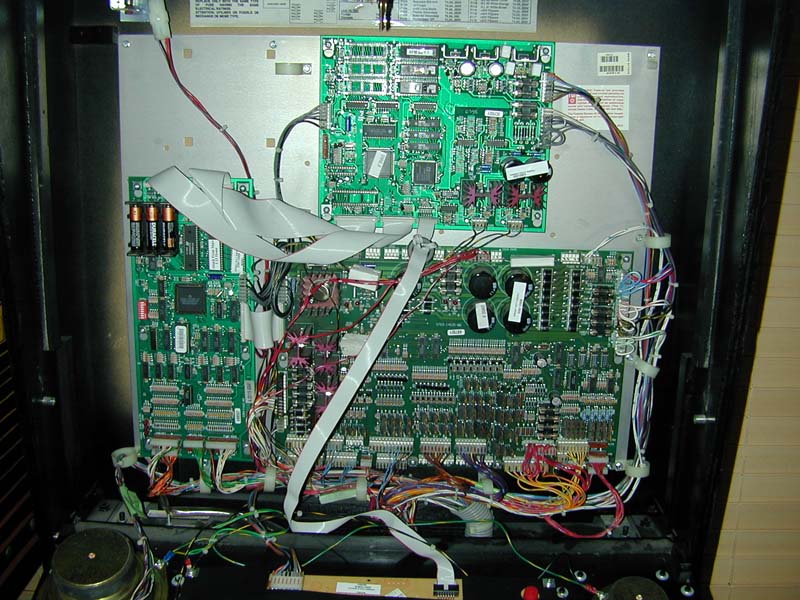 No GI connector burn.