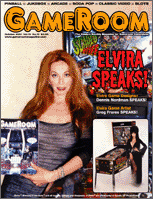 Here's an issue of GameRoom magazine that has quite a bit of in-depth information about Scared Stiff as well as Elvira and the Party Monsters. Includes interviews with Cassandra Peterson, Dennis Nordman and Greg Freres. A must-have for any serious fan of these games.
Price is $25 each including shipping within the U.S.
To order, send me an email. I also accept Paypal.