(Below is the page that was created to advertise this second machine for sale in August 2004)
Are you looking for a CACTUS CANYON that looks better than if it just came out of the box? Do you like the exhilarating feeling of peeling off that protective plastic on the side rails? Does the shine of a playfield waiting for that first ball to roll across it make you feel all warm and fuzzy inside? This game will give you ALL of that and more! Here is a meticulously restored CACTUS CANYON pinball game that looks BETTER than a NIB (new in box) game, complete with a RARE NOS collectors plaque. This is the second Cactus Canyon that I have restored and the last one that will be for sale. You will NEVER find a nicer Cactus Canyon, even if it's in a sealed box!
My name is Robert Winter and I am a private collector that takes great pride in the condition of my machines. I have restored many games over the years and have learned a lot over the course of doing those. This is NOT a machine that was quickly shopped to make it look presentable. This game was painstakingly restored by myself over a period of four months. Great attention to EVERY detail was paid and the results are simply breathtaking. This would be the centerpiece of any collection - or a collection all by itself! There are ZERO plays on this game since the restoration! Check out what was done to this machine to make it better than "in-the-box" condition -
New cabinet and backbox decals applied to perfection. Check out my website to see the 2+ week process used to just PREP the cabinet.

New stainless side rails - still has the protective plastic for *you* to remove!

Brand new chrome legs

New Sintra cabinet/leg protectors

New leg bolts

New leg levelers

New sliders on rear of cabinet

NOS flipper buttons

NOS lockdown bar

NOS shooter assembly - housing, rod, springs, everything!

New playfield glass

New coin door

NOS Start button

Add that's just the cabinet! Look what was done with the playfield -

Playfield stripped bare on both sides and clearcoated with automotive clear by Bill Davis. Inserts were meticulously polished underneath. I laid this playfield next to a clearcoated NOS playfield and couldn't tell the difference!

NOS Bart head

NOS Bart hat

New Bart entrance flap

NOS Mountain

NOS Keep Out sign

NOS Beer mug

NOS upper right ramp

NOS J ramp

New train ramp flap

New left ramp flap

NOS plastic set

NOS Pop bumper bodies, skirts, rings and caps

NOS slingshot plastics

New clear fender washers

New slingshot switches

NOS slingshot arms

NOS drop targets

New drop target decals

NOS stand-up target assemblies

NOS flipper bats

NOS flipper armatures, coils, sleeves, EOS switches, coil stop, return spring - a complete rebuild. Only the flipper base was re-used.

NOS star posts

NOS plastic sleeve posts

ALL new rubber rings and sleeves

ALL lamps replaced - not just the upper playfield bulbs, but EVERY SINGLE bulb in this game is brand new. Top playfield side, bottom playfield side, backbox, even the start button!

Custom color-matched instruction and pricing cards

New laminated cabinet information sheet

This is a domestic USA game, NOT an import. Game comes with new legs, new levelers, new bolts and new Mirror Glazed pinballs (not shown). Also includes manual and a NOS collector plaque which is VERY hard to find. No coin mechs are included.
Buyer will pay for all packing and shipping costs. I prefer the game be picked up in person in the Los Angeles area but I will ship at the buyer's risk if requested. I take no responsibility for any damage once the game leaves my hands. I will carefully pack and crate the game for shipping for $200, which will include wrapping the game in packing blankets, plastic wrapped, and then crated onto a pallet. Freight charges depend on buyer's location and choice of shipping company. I will NOT ship this game unless it is insured for the full purchase price.
Since there are ZERO plays on this restoration, buyer will have the option of receiving the game in this condition or I will play test the game no more than 10 plays and adjust any issues found during that time. All tests have been run and everything is 100% functional. Minor switch adjustments may be necessary after the first few games.
Enough with the talking already ... let's see the game!
Here's a picture of the overall game. Needless to say, there is absolutely NO wrinkling of the new decals. (the white on the rails is the protective plastic, which YOU will remove!)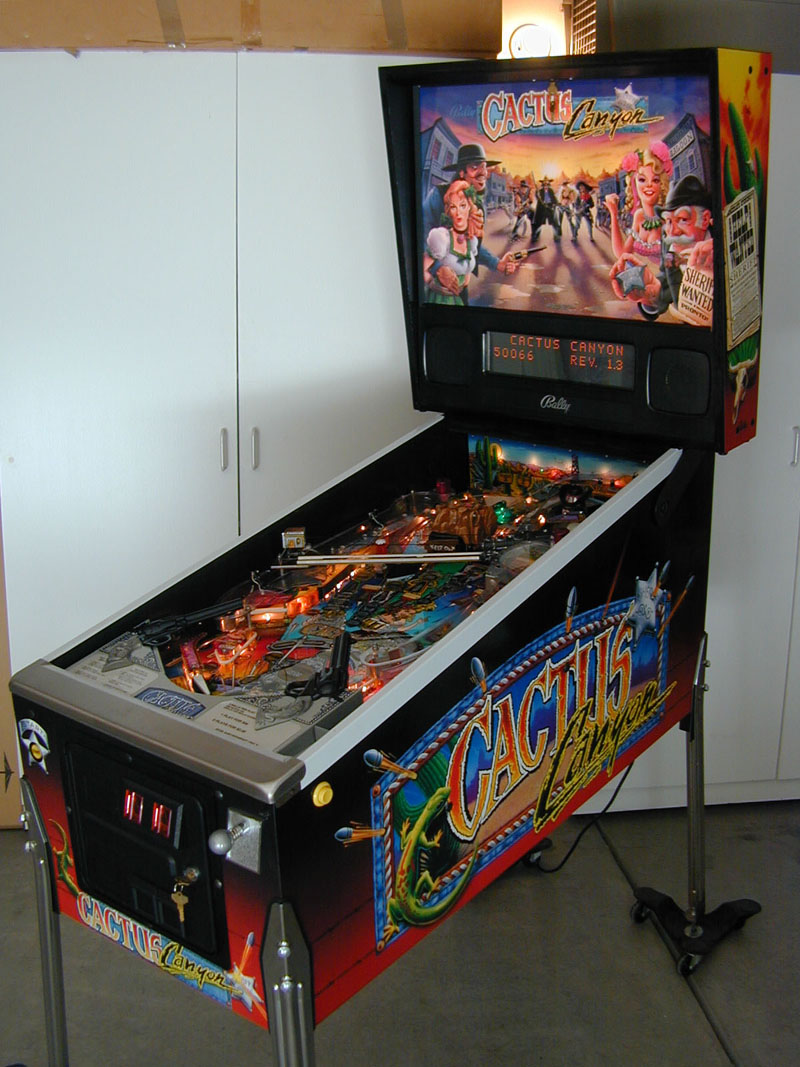 To understand the detail I put into applying new decals, let me give you an overview of what I did to the cabinet and backbox in preparation for new decals.
Removed side rails and discarded

Removed decals down to bare wood

Sanded bare wood smooth

Repaired any defects or holes (no more factory lock bar holes!)

Applied three coats of clearcoat to seal and fill minor imperfections and woodgrain, sanding between each coat

Only one side per day was done at one coat per day - the above step took almost two weeks!

Paint exterior edges black

Paint interior sides of cabinet and backbox to factory specifications

Applied one decal to cabinet/backbox and allowed 3 days drying time before proceeding - another 10 day process!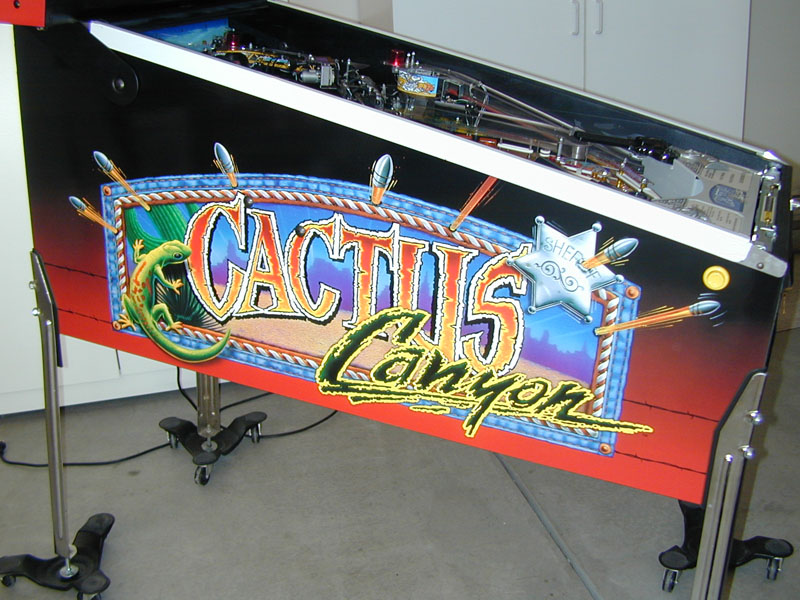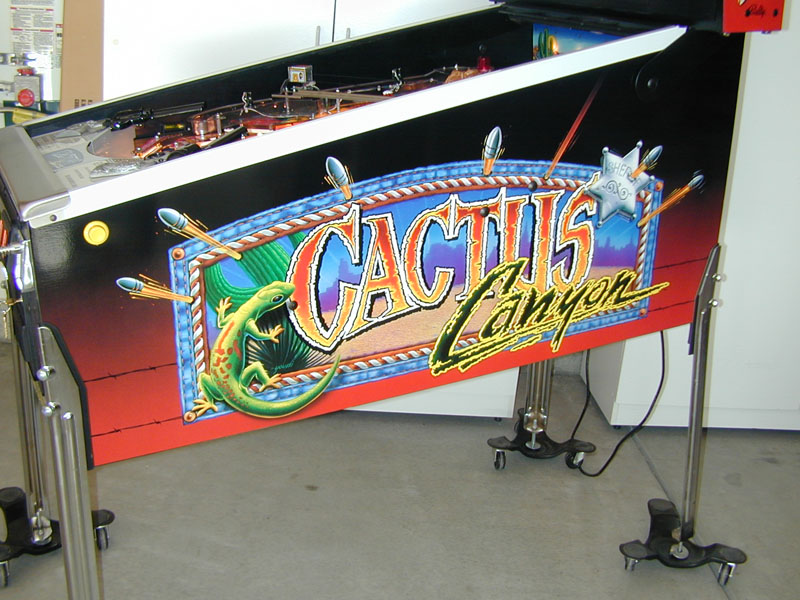 Here's the beautiful new coin door and decal. Notice there are no factory lock bar holes either! A NOS shooter assembly finished this off quite nicely. NOS start button too!
And look at UNDER the NOS lockdown bar - like NEW! Lockdown latch bar was polished to a gleaming shine.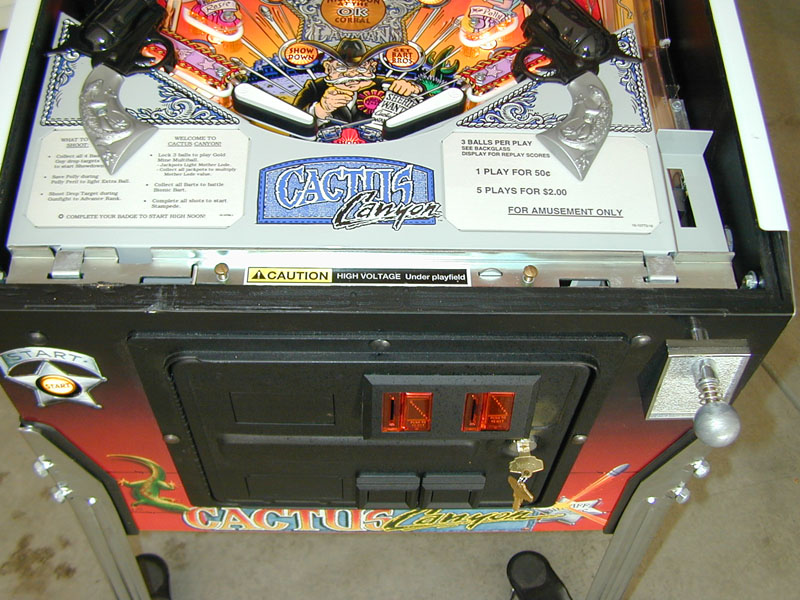 Both sides of the backbox with brand new decals and freshly painted bolts.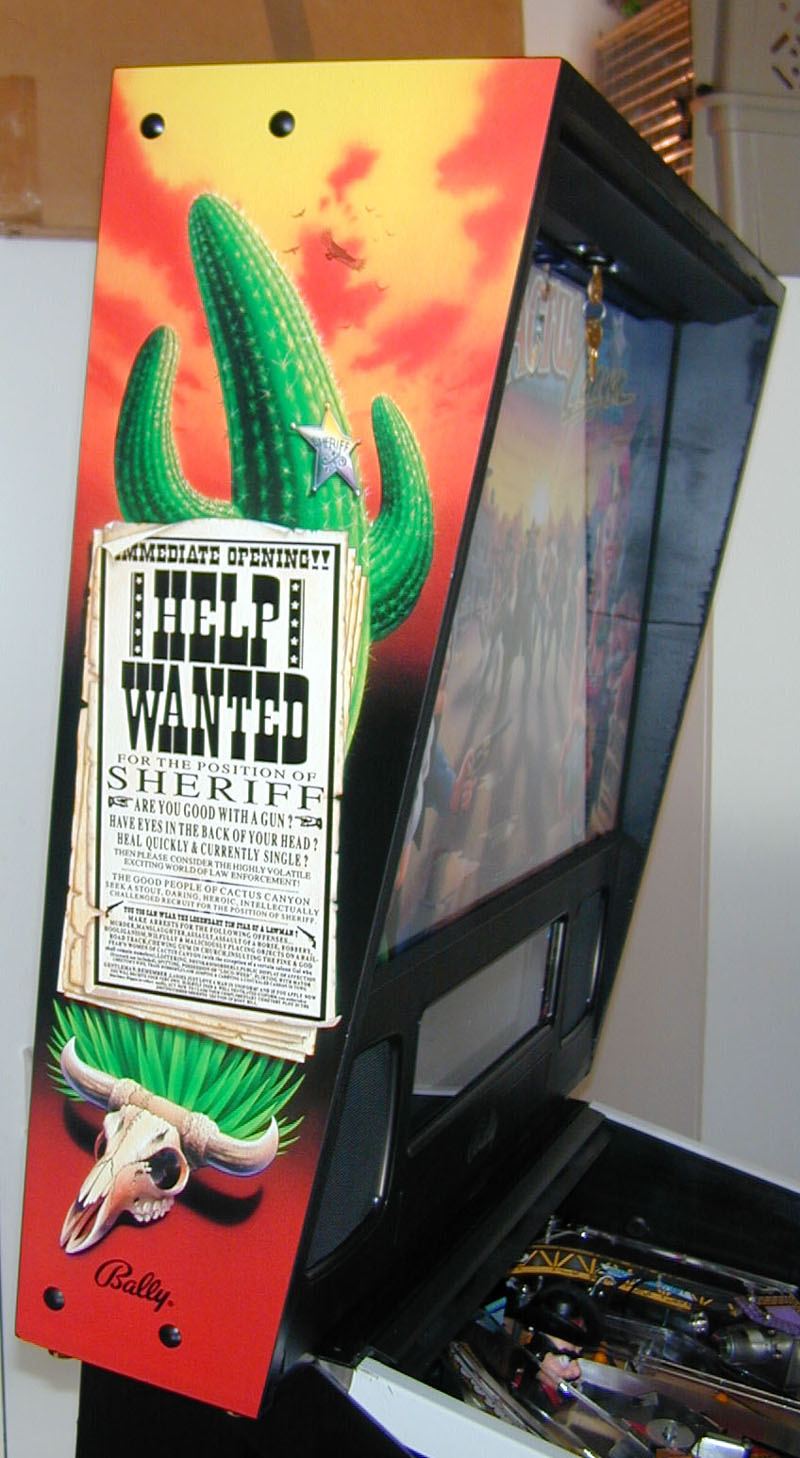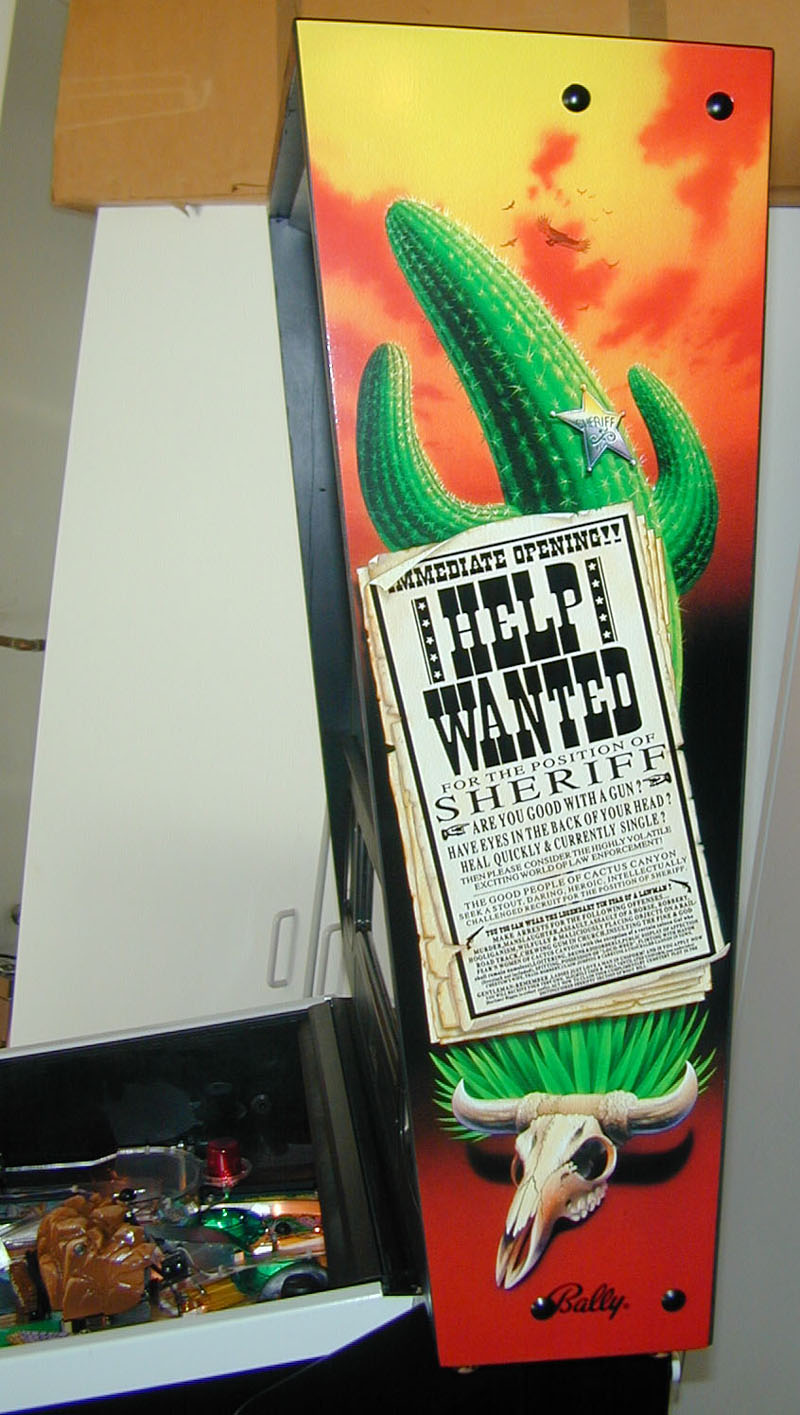 Here's a view of the translite and brand new DMD, which is nice and bright. Backbox has been freshly painted inside and out with black satin paint.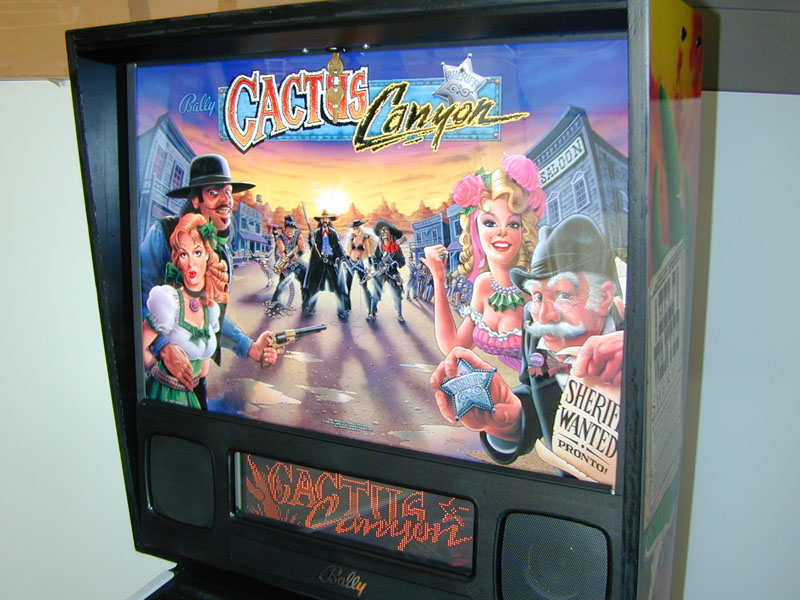 Even the back of the game looks fantastic. Brand new sliders installed.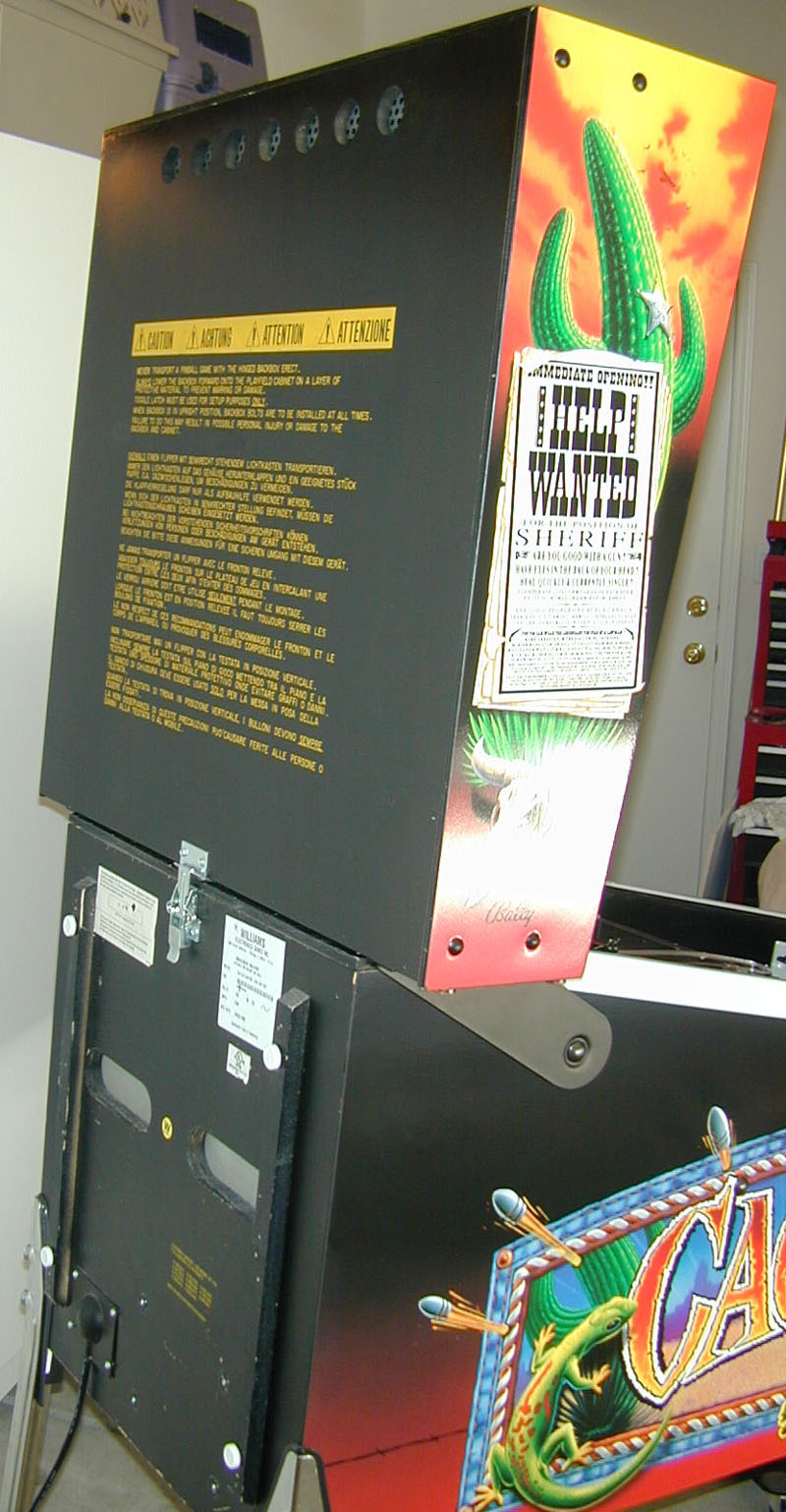 The clear DMD window was replaced with a brand new one which is crystal clear.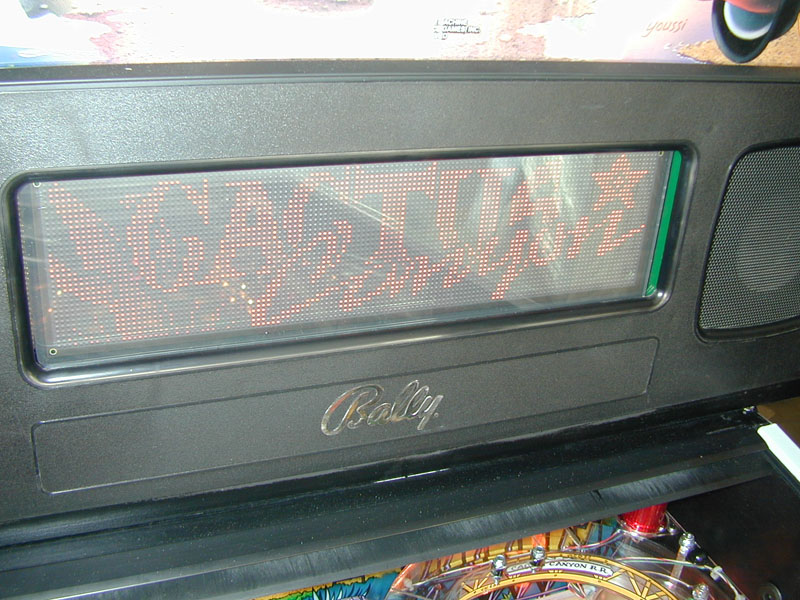 How many plays since the restoration? ZERO!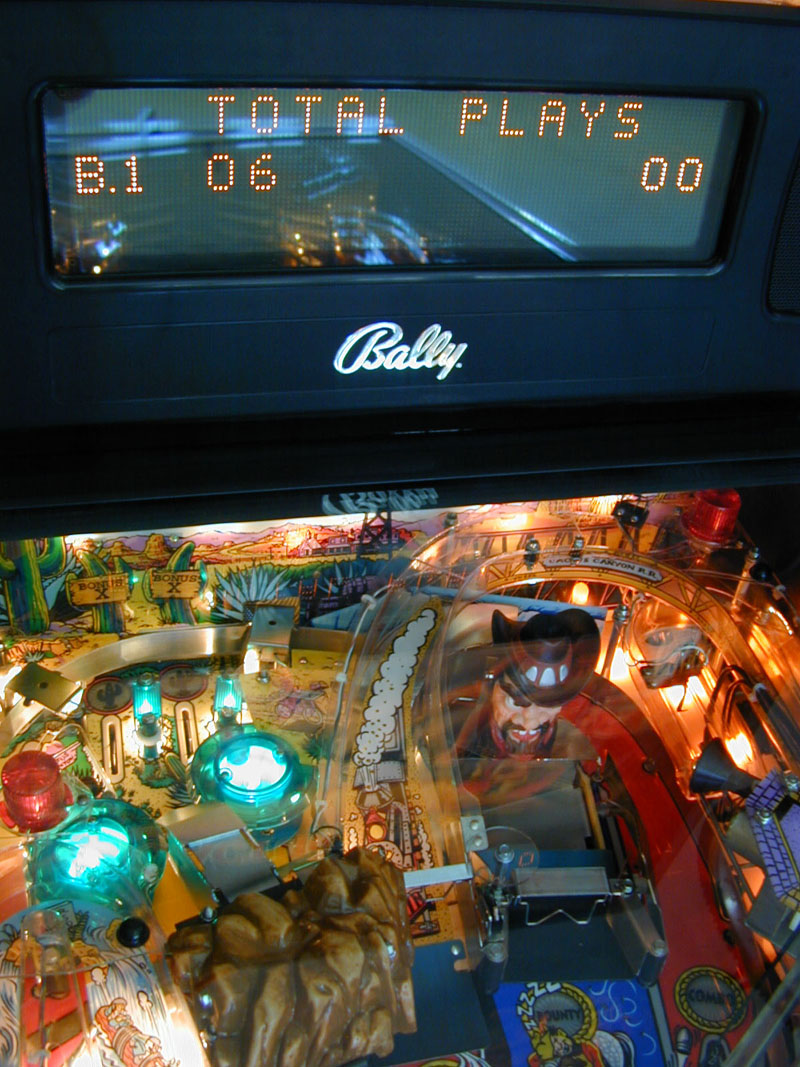 Nice overall view of the playfield. You'll never see this amount of shine, even on a NEW game! Why? Besides most parts being new on this game, the playfield was professionally clearcoated and the metal posts and hex standoffs were all polished. (Note : this picture was taken before the lower right J ramp was replaced with a NOS one)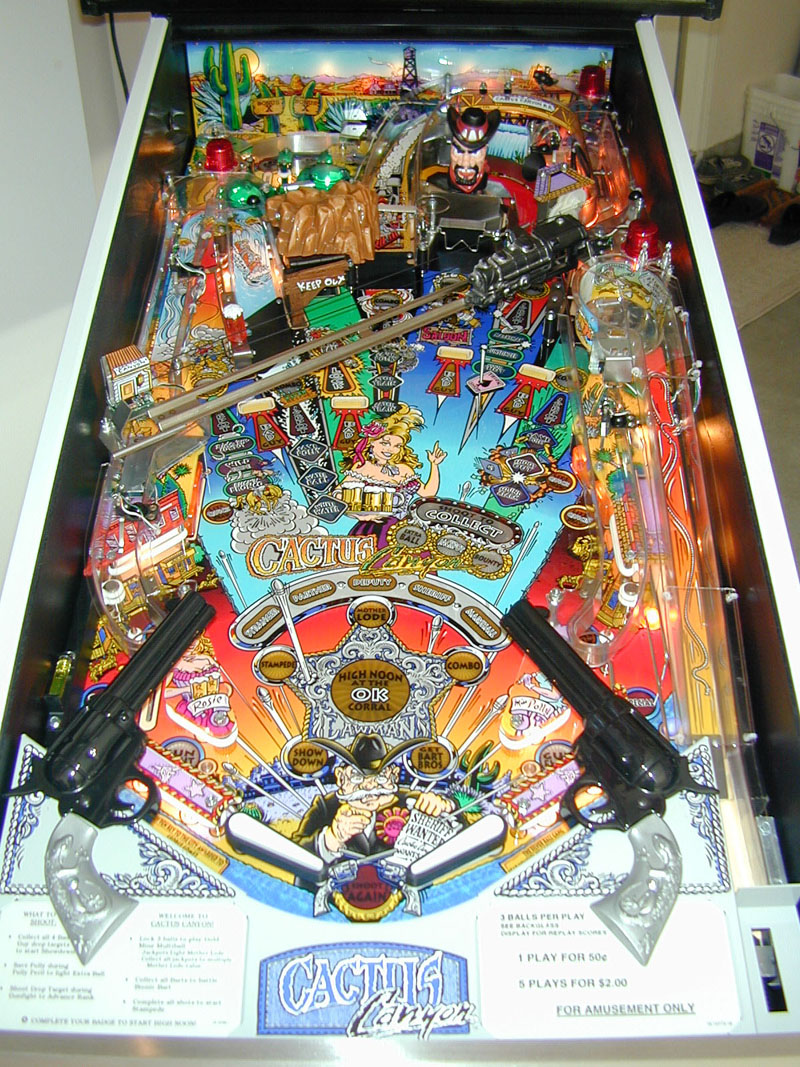 New lane guides, pop bumper bodies, skirts, rings, caps and playfield plastics. The gates were even polished!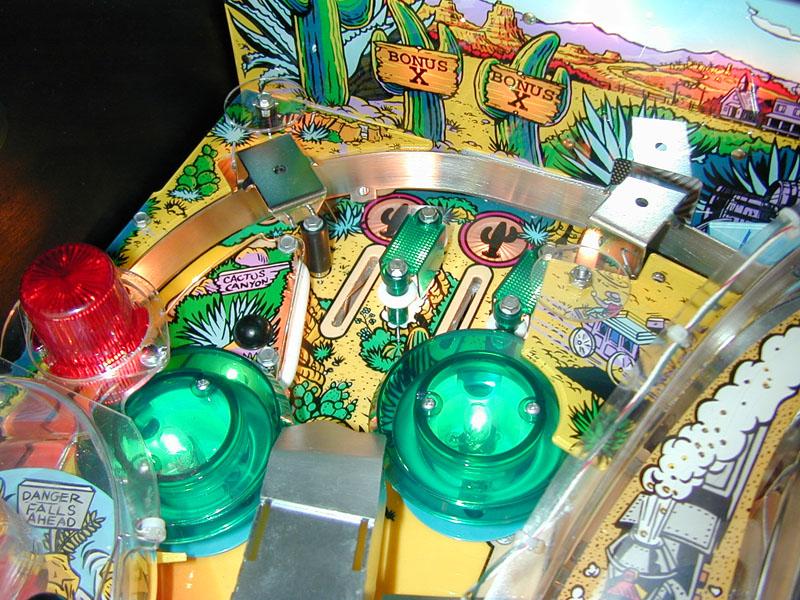 NOS beer mug, mountain and keep out sign. And look at that left ramp with a brand new flap!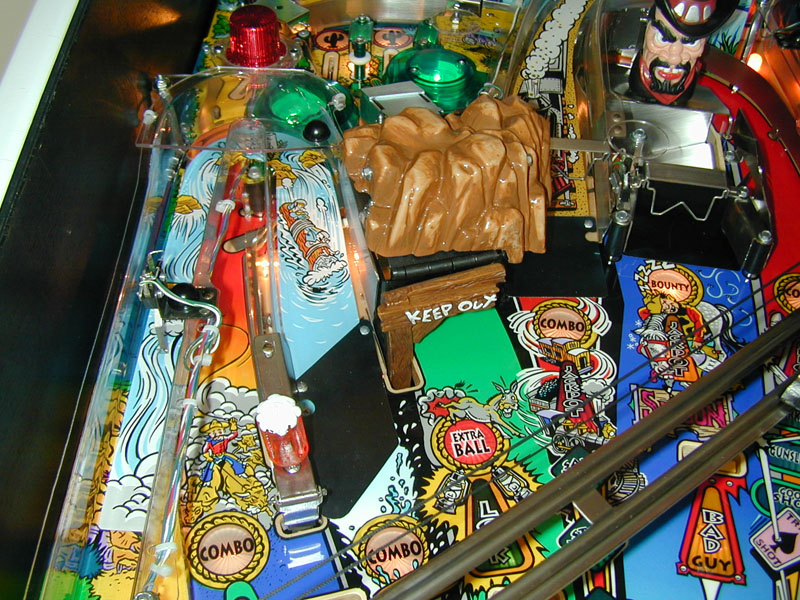 NOS Bart head and hat. A new flap was installed in front of Bart to complete the area. All stainless parts were re-grained to remove any ball marks. Brand new flap installed on the freshly flamed train ramp.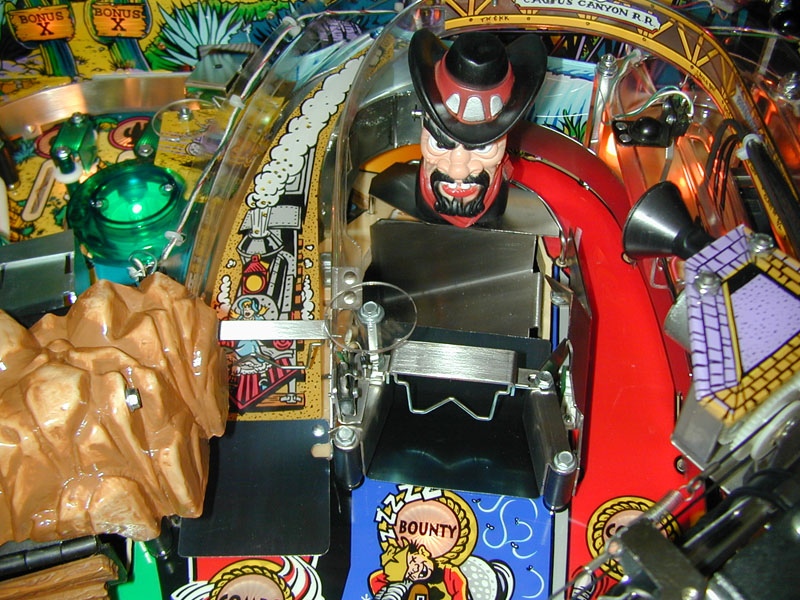 New Bad Guy targets installed including prototype target decals. And the target assemblies UNDER the playfield were cleaned to like-new condition!
A new instruction card was custom made and laminated so it will never wear out or get dirty.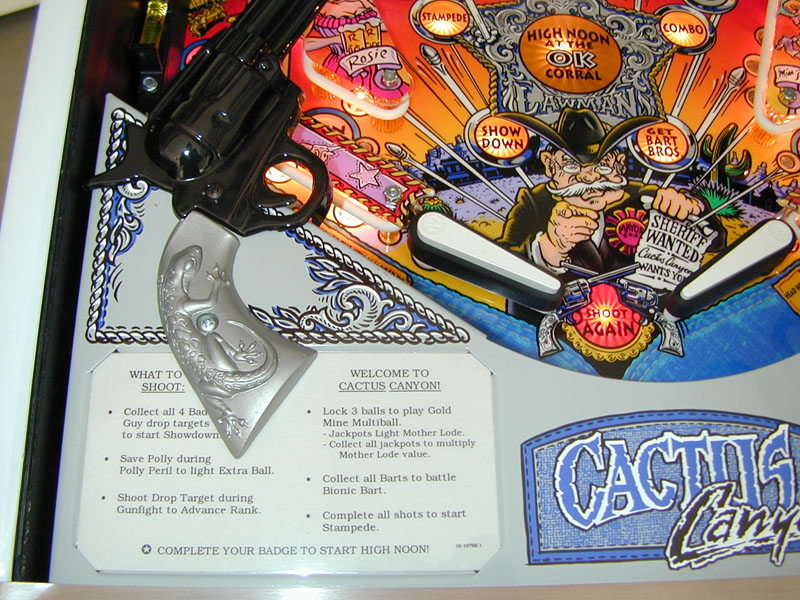 New flpper bat, all new rubbers, NOS plastics, new star posts, new slingshot switches and kicker crank. Even the metal inlane guide and hex standoffs were tumble-polished for over 24 hours!
Here's the same shot with the flash off.
The right side shows the same attention to detail as the left.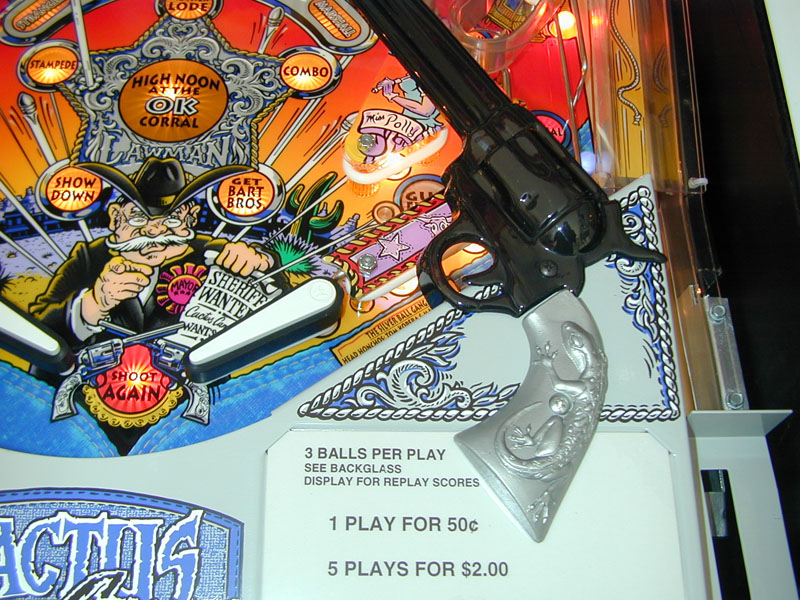 Almost everything pictured is brand new. NOS J ramp was installed too.
Here's the same shot with the flash off. See how smooth the playfield looks!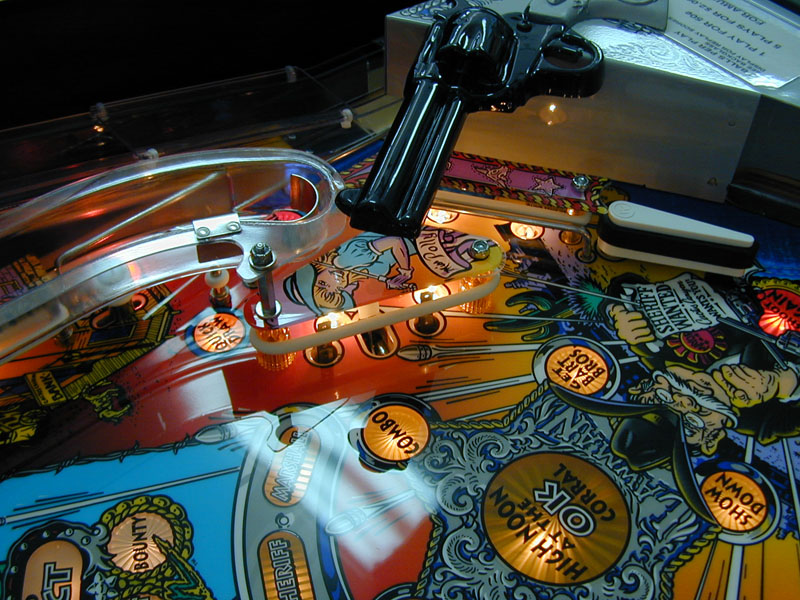 Clear fender washers were added under the NOS slingshot plastics for protection. The instruction and pricing cards were printed on a light gray paper then laminated.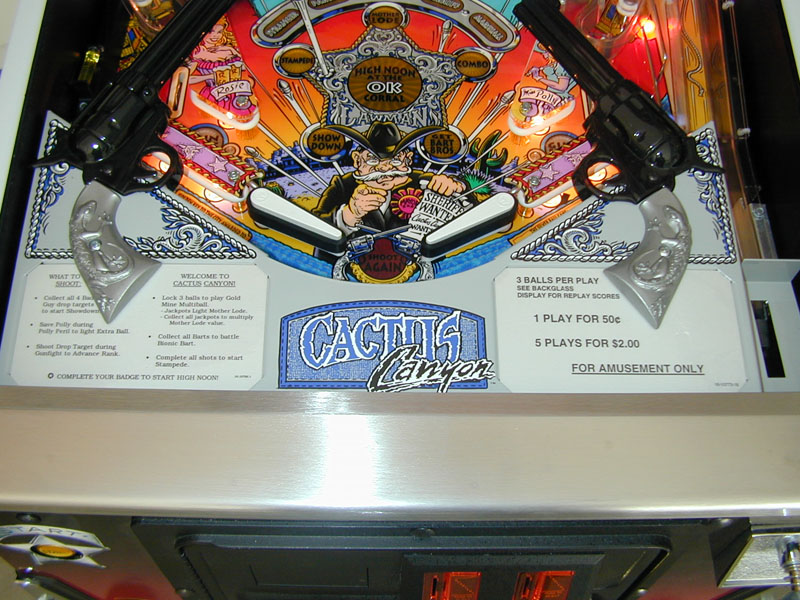 Left ramp has been flame polished and looks like new. New Quick Draw targets, new rubbers and polished metal parts.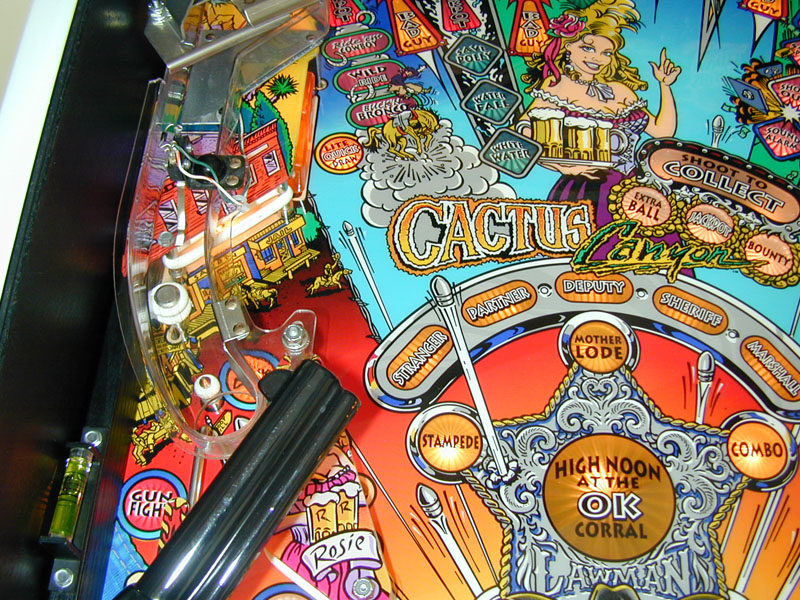 NOS J ramp installed. Skill shot ramp has been flame polished.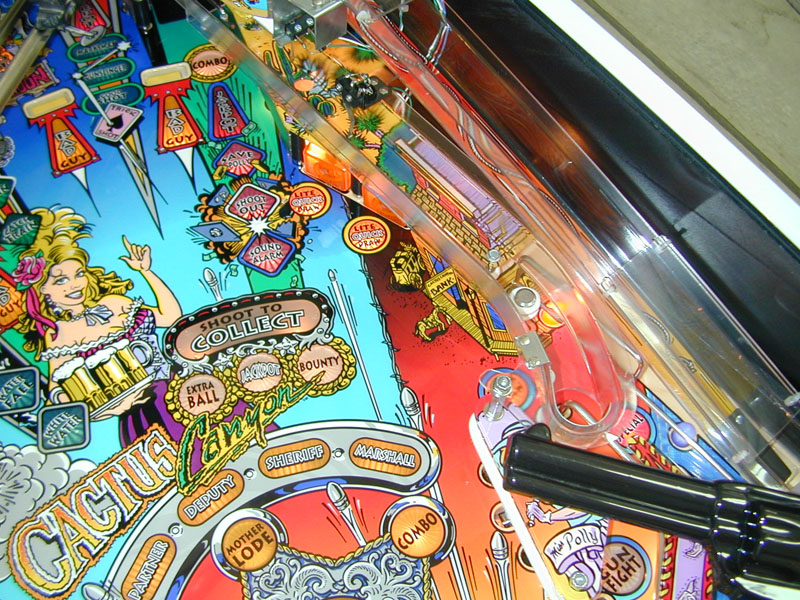 Train track has been polished. Notice white protective tape still on side rail.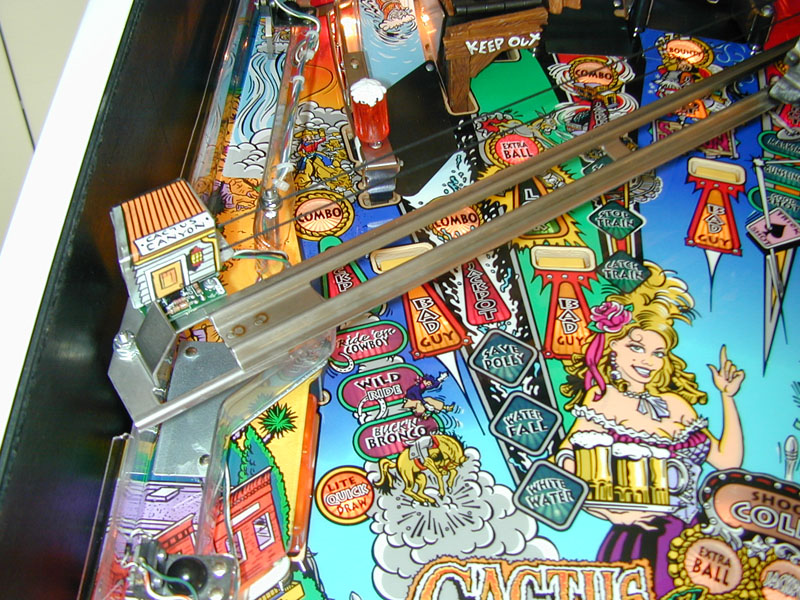 Look how clean the Bad Guy cutouts are. And the ramps are so clear you hardly notice they're there!
Newly regrained stainless ball guide sits next to the new Quick Draw target assemblies. And look in the Bad Guy target cutout!
Look at the reflections in the playfield!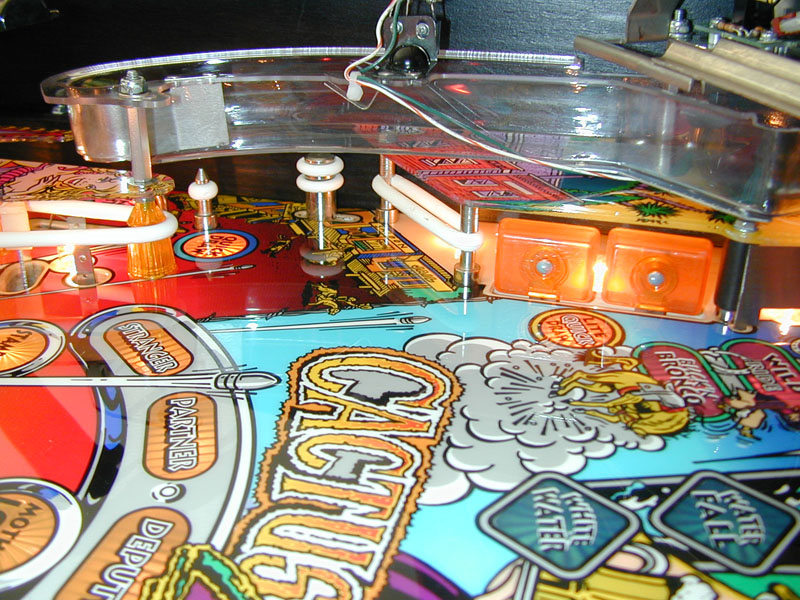 Regrained stainless guide, new targets and inserts that have been polished from UNDERNEATH!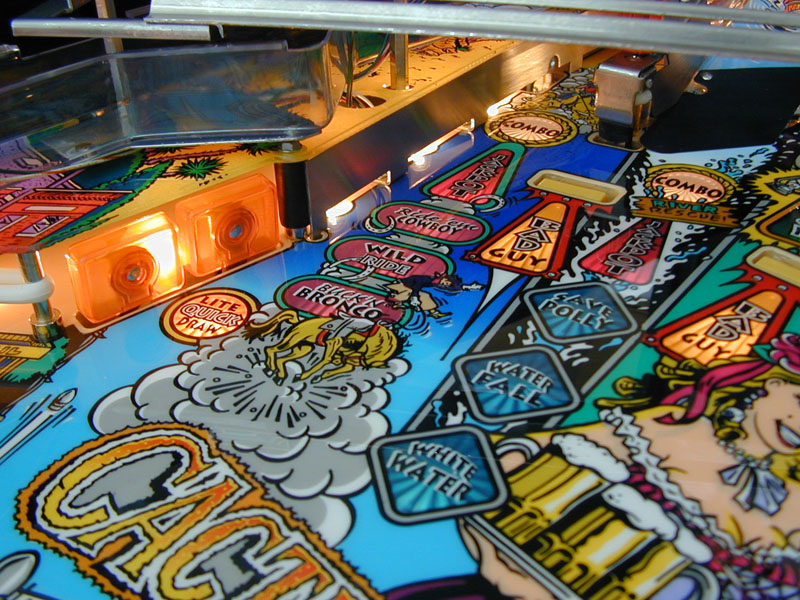 NOS right ramp in place under the train ramp. And look at the regrained stainless parts around Bart!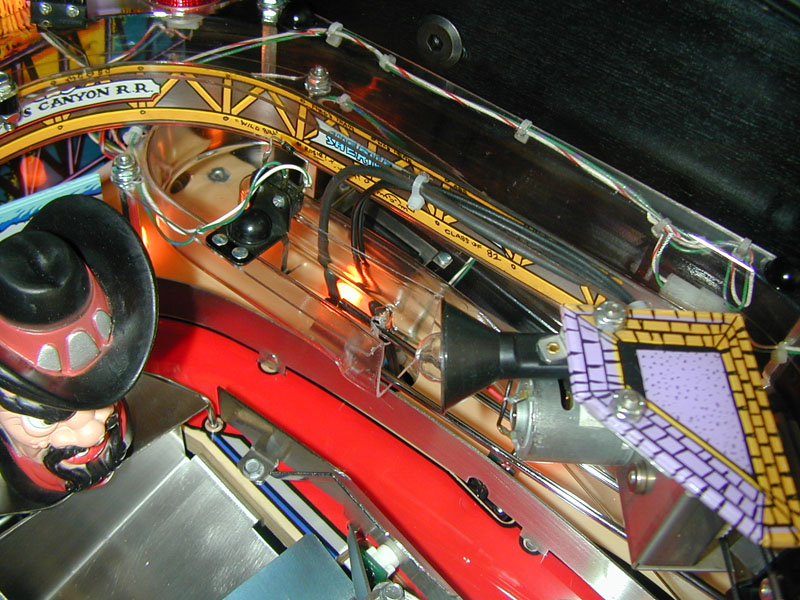 NOS right ramp under the train.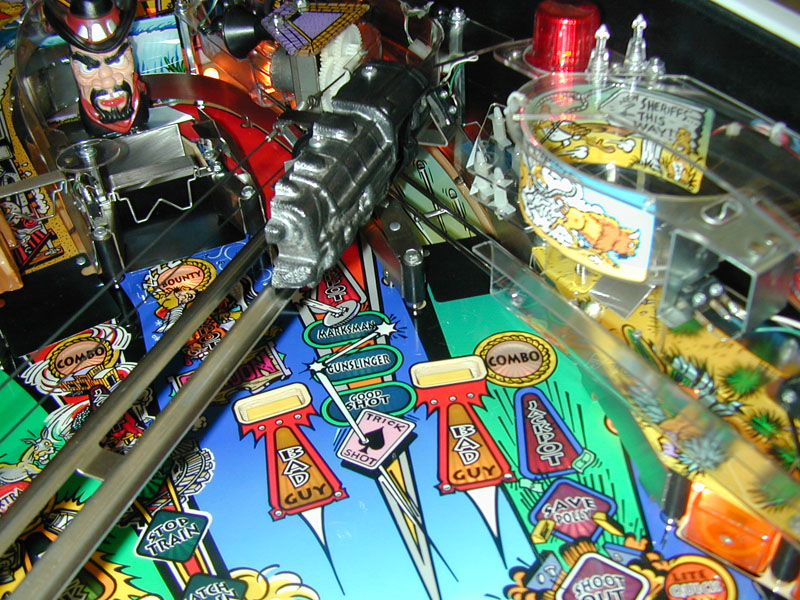 Boards are in perfect condition with no GI connector burn. Serial numbers on all the boards match and are the original boards for this game.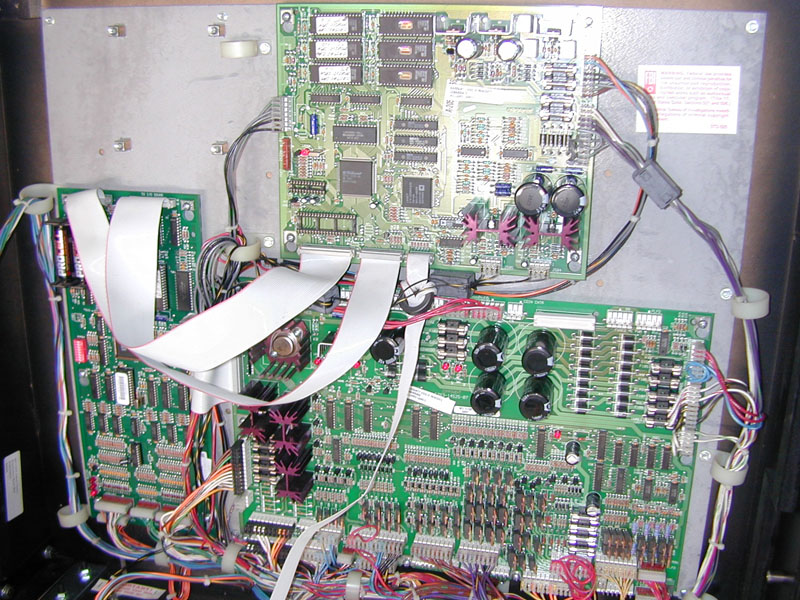 The underside of the playfield looks as clean as the top.
The inside of the cabinet was also meticulously restored to factory condition. A new cabinet information sheet was printed and laminated. There's even a new rubber on the prop-up bar.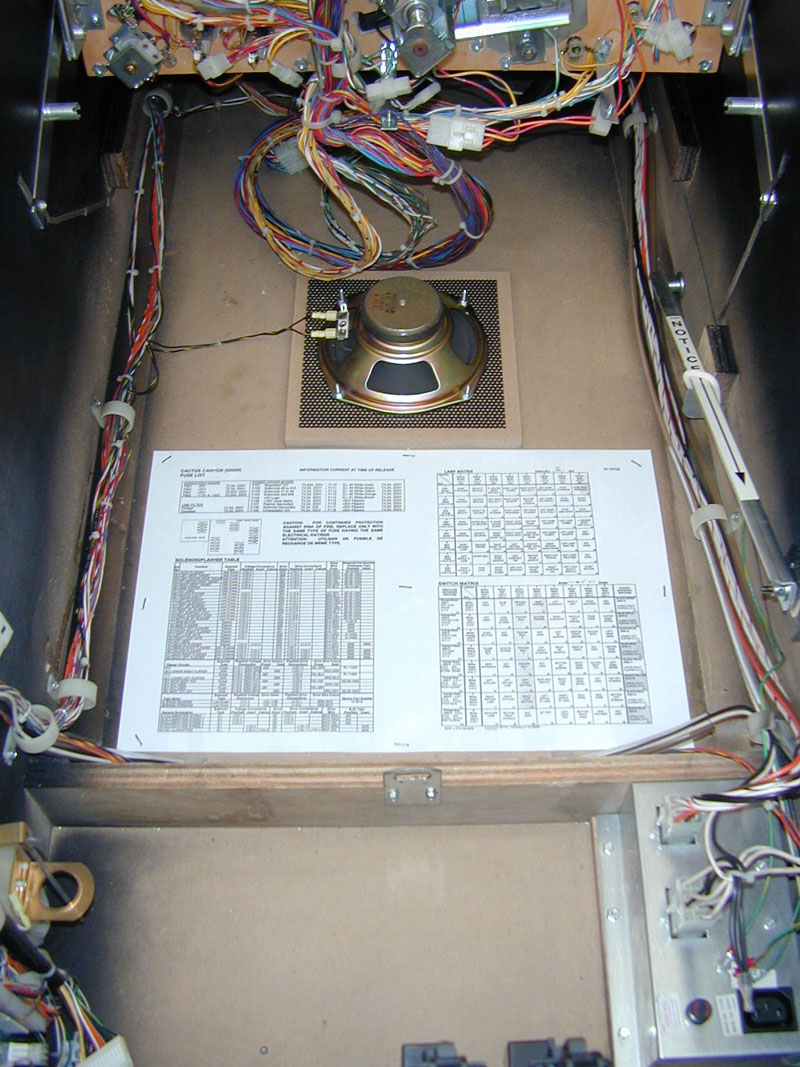 The bottom of the cabinet looks like new. With true attention to detail, even the clear tubing over the wiring was replaced.
Here you can see (OK, not really, but that's the idea) the clear tubing that was replaced on the left and center.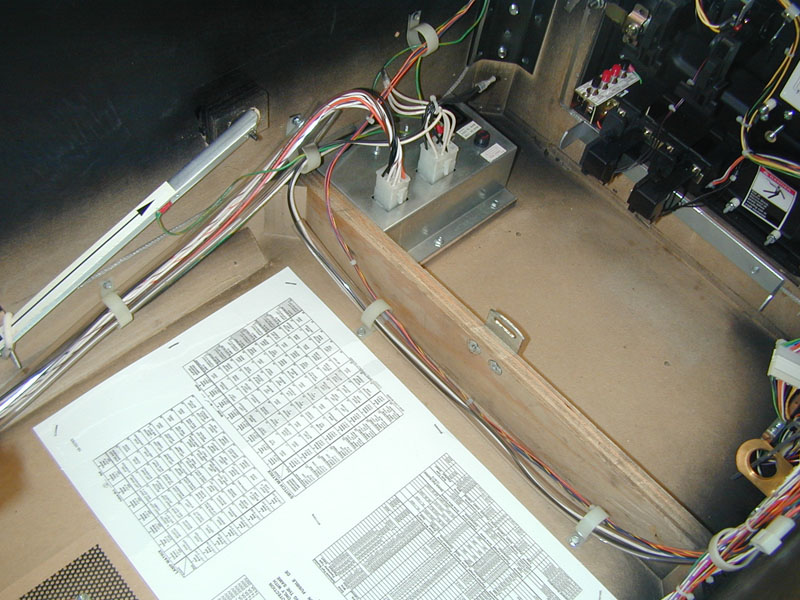 Looking into the back, you can see how clean everything is.
Part of the protective tape has been removed to install the front rail bolts. You can see the new stainless rail exposed partially here.
And some balls-eye view shots showing the beautiful shine of the playfield. You can see the reflection of the backbox and DMD!
Even Rosie thinks this game is #1!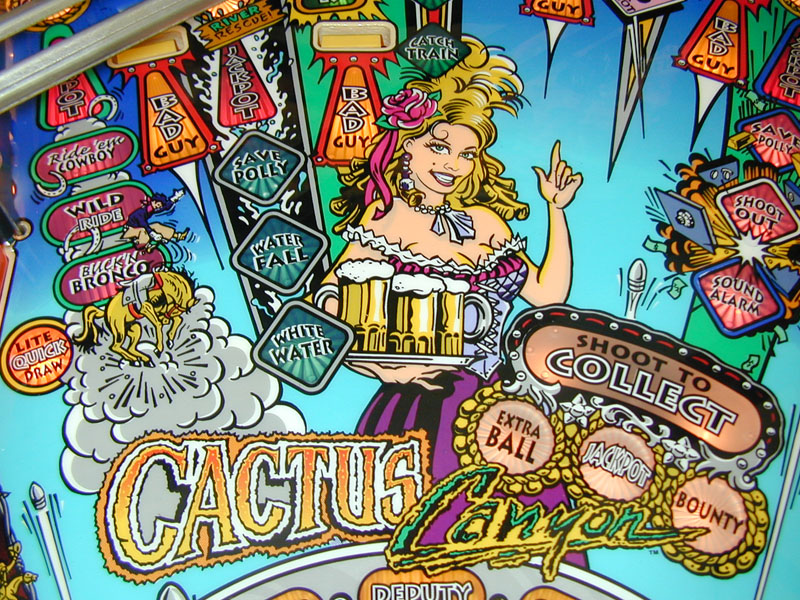 Buyer will receive this NOS collectors plaque with the game including all mounting hardware. I didn't nail it into the perfect cabinet as the buyer may wish to attach it to the coin door with double sided tape. A much better way to display it in my opinion.
The plaque number (496) is relatively close to the serial number of the game (459). The plaques were originally issued long after the games had been sold so the serial numbers almost never match the plaque number. This one is pretty close.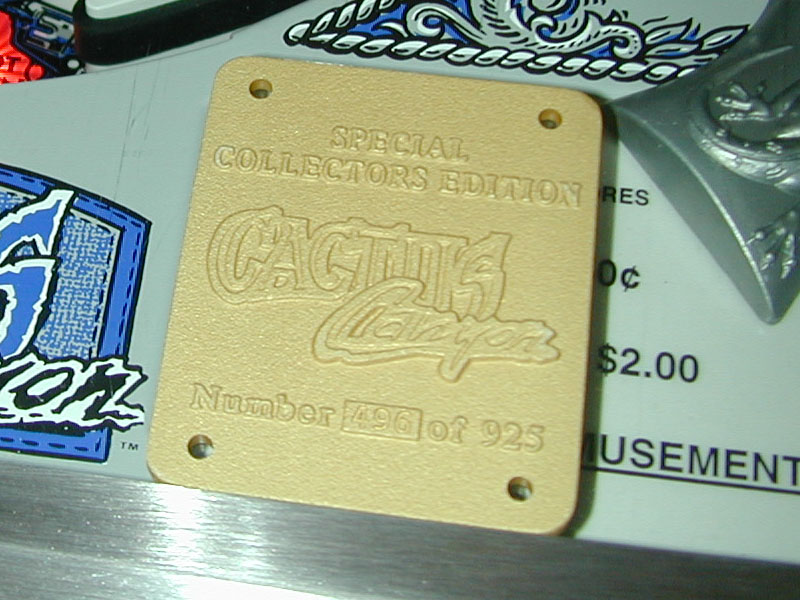 And of course, the manual is included.